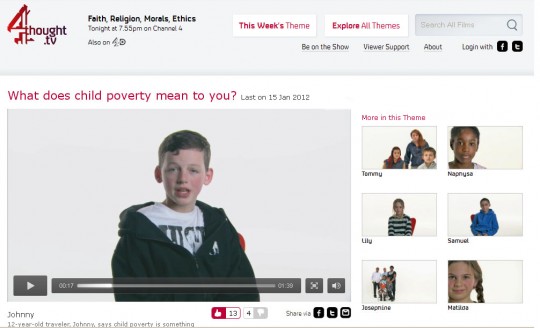 4thought.tv is Channel 4's daily moral and ethics opinion show and is on every day after the news. 4thought.tv states that it is about sharing diverse thoughts, ideas and points of view. Each week, a different theme is explored through short video clips covering a wide range of issues such as should faith schools be banned, does everyone have the right to a home , is your God a woman, what are the lessons of 9/11 and so forth. With each theme, seven different views or perspectives are showcased in order to stimulate discussion – there is a facility to comment on individual video clips.
There are opinions from every aspect of society, from the devoutly religious, or religious leaders (multi-denominational), to atheists, converts and people leading non-traditional lifestyles – as well as politicians and celebrities also.
If you are interested in taking part in their project and being filmed, you can contact them (https://www.4thought.tv/be-on-the-show) directly and be on the show. If there is a particular issue or topic you like to see 4thought explore, you can also contact them with your suggestions.
This week's theme, posed to six children, was 'What does child poverty mean to you?'. Meet Johnny, for example, a 12 year old Irish Traveller participant. At less then 2 minutes in length each, the clips are short and engaging.
The discussions in the comment sections underneath the videos are also interesting in themselves (to see how people are responding to the videos –  which is not always met with empathy).