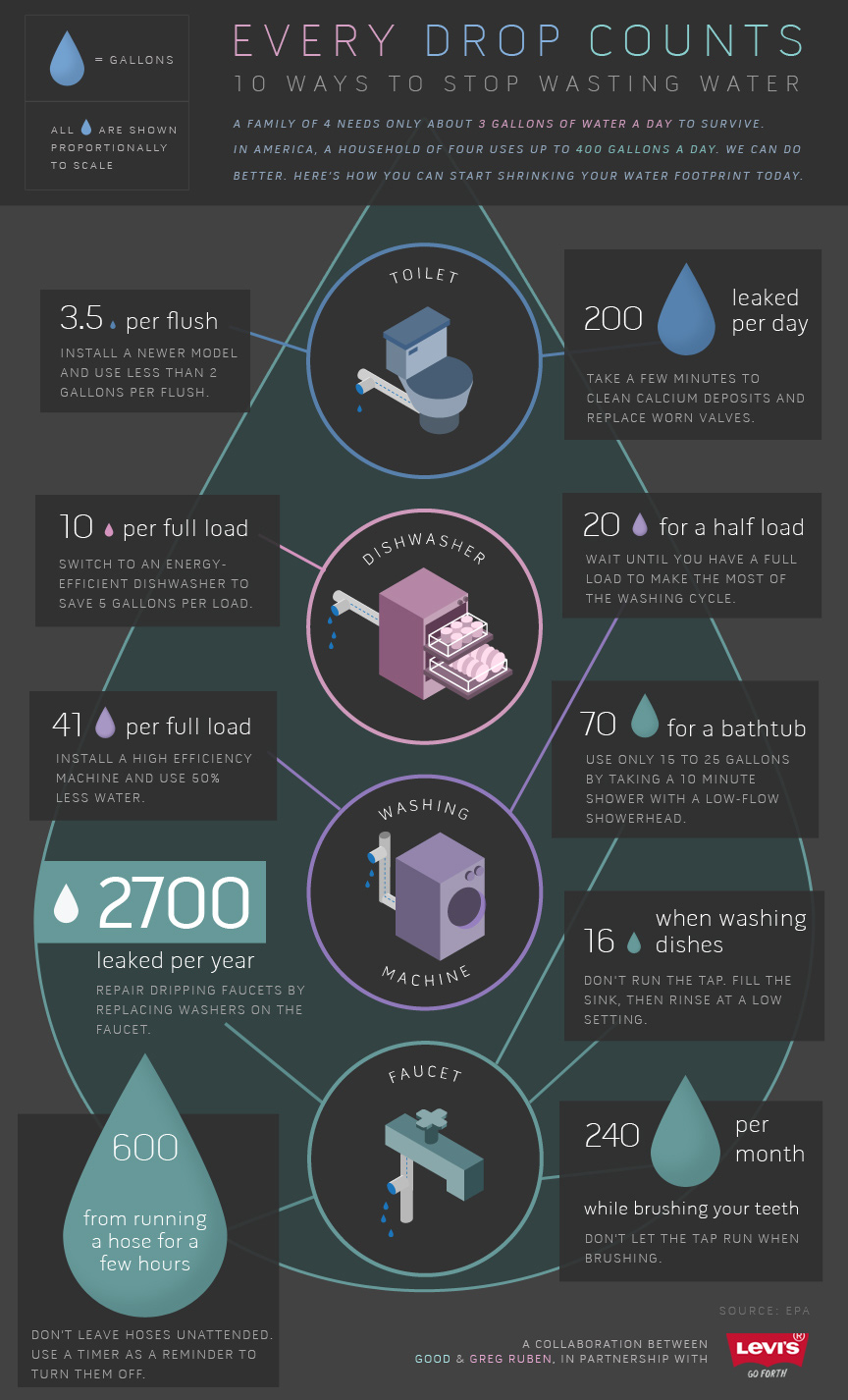 Link to full size Every Drop Counts infographic (2011)
When was the last time you counted every drop of water you use on an average day?
The infographic workshop factory over at GOOD Magazine have done it again.
In teaming up with Levis, they have produced a series of educational infographics on water use & waste both at home and in the Third World. The gauntlet has been thrown down to millions of us to be more aware of the water that is readily available in the taps and toilets at home, school and work and to think about how we use it. For nearly one billion people, finding clean water is a daily struggle:
Lack of access in their homes or their community can cause a multitude of health, economic, and quality of life problems. For those of us fortunate enough to have clean water access, it's more important than ever to help conserve this important resource.
The stark realities of the impact on the environment from our waste of water in affluent countries cannot be ignored. As GOOD tell us,
A family of four needs only about 3 gallons of water a day to survive in America. A household of four uses up to 400 gallons of water a day. We can do better.
Indeed, we can.
Corporations like Levis have been increasingly reaching out beyond the usual 'buy and sell' relationship that we are typically used to. While ethical consumption is not a new concept (it was first practiced in the late 1700s – see our ethical consumption module), the rise of its popularity as a business strategy by large multinational corporations is having a massive impact on the way we see development issues through these kinds of awareness raising campaigns and on the impact of charitable funding for targeted relief and long term change.
Inspiring, informative and beautifully illustrated, this infographic challenges us to consider the size of our water footprint at home and how we can improve it.
How big is your water footprint?
__________________________________________
Explore more on www.developmenteducation.ie
Follow our free online module on Water & Sanitation for an introduction to water usage, climate change, the MDGs, women and girls and the Irish response. This can be combined with exploring corporations and ethical consumption by using our Ethical Consumption module for discussions on Fair Trade, naming and shaming and ethical buying tips.
These modules suit youth educators and campaigners looking for supporting information and topics on the water waste infographic.
More from GOOD Magazine: Follow this interactive infographic to see how lack of clean water affects the lives of women and children in the developing world every day.