Since 1990 the annual Human Development Report has become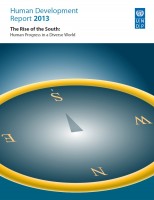 THE one stop shop for regular reflection and analysis on one general issue issue year, such as water, cities, migration and human rights. It's also free online and has become the most accessible and readable of all the international reports you might find out there and contains a great amount of immediately useable information.
Produced by the United Nations Human Development Programme (UNDP), the reports offer an alternative space for reflection and research from human development perspectives outside of the dominant lens of economics usually taken by The World Bank and the International Monetary Fund, the twin international pillars supporting the structure of the world's economic and financial order. Each report focuses on one major issue, and 2013 report focuses on "The Rise of the South: Human Progress in a Diverse World".
For the quick skimmers here is a fantastic infographic produced by Al Jazeera that summarises the main points and findings from this years' report, launched in March.

Source: by Ben Piven and Simon Ramsey for Al Jazeera, 14th March 2013.
Download the full report in English, Spanish & French here: 2013 Human Development Report – "The Rise of the South: Human Progress in a Diverse World
See the annotation for the report in our resources catalogue.
For those interested in the data behind the report and country profiles, as well as some brilliant visualisations of the statistics visit https://hdr.undp.org/en/statistics and build your own graphics and tables.