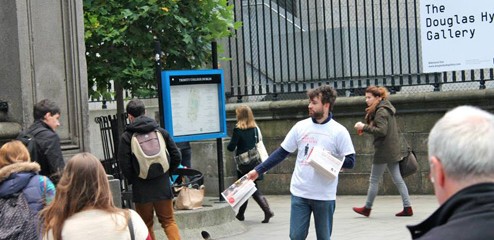 Around 40 volunteers hit the streets of Dublin and Cork last Friday to hand out copies of "The World's Best News" – a free paper that compiles good global news and success stories about development cooperation. Progressio Ireland's Communications Officer Franziska Fehr reflects on the day.
___________________________________________________________________
6.15 My alarm rings. It's very dark outside and autumn has truly arrived in Dublin this week. I don't want to get up. But I'm on a mission today: I'm going to spread some good news among Dublin's commuters this morning.
6.30 So I jump out of bed, get ready, put on a couple of extra layers, hat and gloves and head off to meet my fellow volunteers.
7.30 I arrive at my location on Kildare Street. It is freezing and the streets are pretty empty. I start wondering if I'm going to be a lonely soldier here today, but then my two fellow volunteer paper distributers Laura and Niamh arrive with big smiles on their faces and a stack of the "World's Best News" papers fresh from the press. We spread out to take up strategic positions along the Street, ready for action.
7.40 I got the Leinster House Gate. The guard at the entrance looks at me with a slightly amused expression. I give him a big smile and ask if he minds me walking up and down the street in front of the entrance. He doesn't. I bet he's freezing, too.
7.45 There's a few people coming up the road now. A guy in a neat coat armed with an umbrella and briefcase is walking towards me. When asked if he would like "The World's Best News" he tells me he has no hand free and runs off. You must have your hands pretty full if you can't handle any good news before 8 am, I think. Two more people rush past me. This is not starting well. I look at the next person coming up the street. "Good morning, Sir, I've got some good news for you" I say. And there, he smiles. "Good news, really?", he asks back. "Great news, indeed," I say. "In fact, the World's Best News". He laughs and takes a copy, thanking me. The ice is broken.
8.05 I'm warming up to this. The street is getting busier and busier with morning commuters and more and more people happily take a paper. There are still a lot of grumpy looking people with the headphones stuck in their ears that give the impression that they would rather be tucked up in bed. Some seem a bit scared of somebody approaching them on the streets. I'm delighted to think that I'm not here to ask for money or signatures or anything like that, but that my sole mission is to give people something back; to give them a paper that contains stories of the remarkable progress made by developing countries, stories of hope and transformation in the lives of the world's poorest and most marginalised people. Stories, that show that development cooperation and the tax payer's contribution to ODA and every single Euro donated does have an impact. Stories that talk about remarkable people who have been able to lift themselves out of poverty.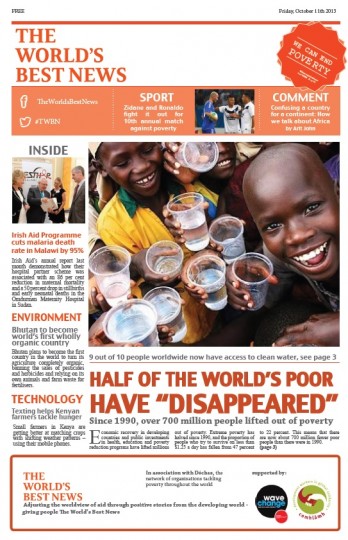 8.20 The papers are flying out now. I look up the road and see Laura's stack getting smaller as well. Niamh is just coming back from checking in on some of the other volunteers and tells me that the papers are being well received at the other locations as well. We'll need backup soon.
8.50 All our papers are gone. All the other volunteers have handed out their copies, too. This is amazing. All 3000 copies gone, and 500 more to be distributed in Cork at lunchtime. We could have easily given out more but everybody is extremely happy the morning went so well. We'll be needing some more funds to print more papers next year.
9.15 Some of the volunteers meet with staff members and a brave CEO from Dóchas member organisations at the Leinster House gate to take photos. We are joined by senator Lorraine Higgins (Lab.) who is very impressed by the initiative and shares some words of support and encouragement.
9.45 It's all done. We've spread almost 3000 copies of the "World's Best News" and hope to have shared a bit of optimism about the fight against global poverty and encouraged people to believe that development cooperation actually works and can have such a great impact. I suppose the stories speak for themselves. If you didn't get a copy of it, you can download it here (3.79MB).
Bewleys Café has invited all the volunteers for a warming cup of coffee and some pastry treats, which is lovely, so we all head over to share some of the stories from the morning. Everybody is still smiling and excited to have been able to help share some success stories from the developing parts of the world, and indeed, on how Irish people have contributed to the success. What a great initiative to be part of.
I'm not even cold any more.
First published on the 11th October 2013 on the Progressio blog and cross-posted with permission.
____________________________________
The newspaper distribution was an initiative of UCDVO, supported by Comhlámh and WaveChange, highlighting "The World's Best News" initiative initiated by the member organisations of Dóchas.
The Metro Herald also ran a number for World's Best News articles earlier in the summer. Read more.
Progressio Ireland has been involved with and supported the World's Best News since the early days. Find out more.