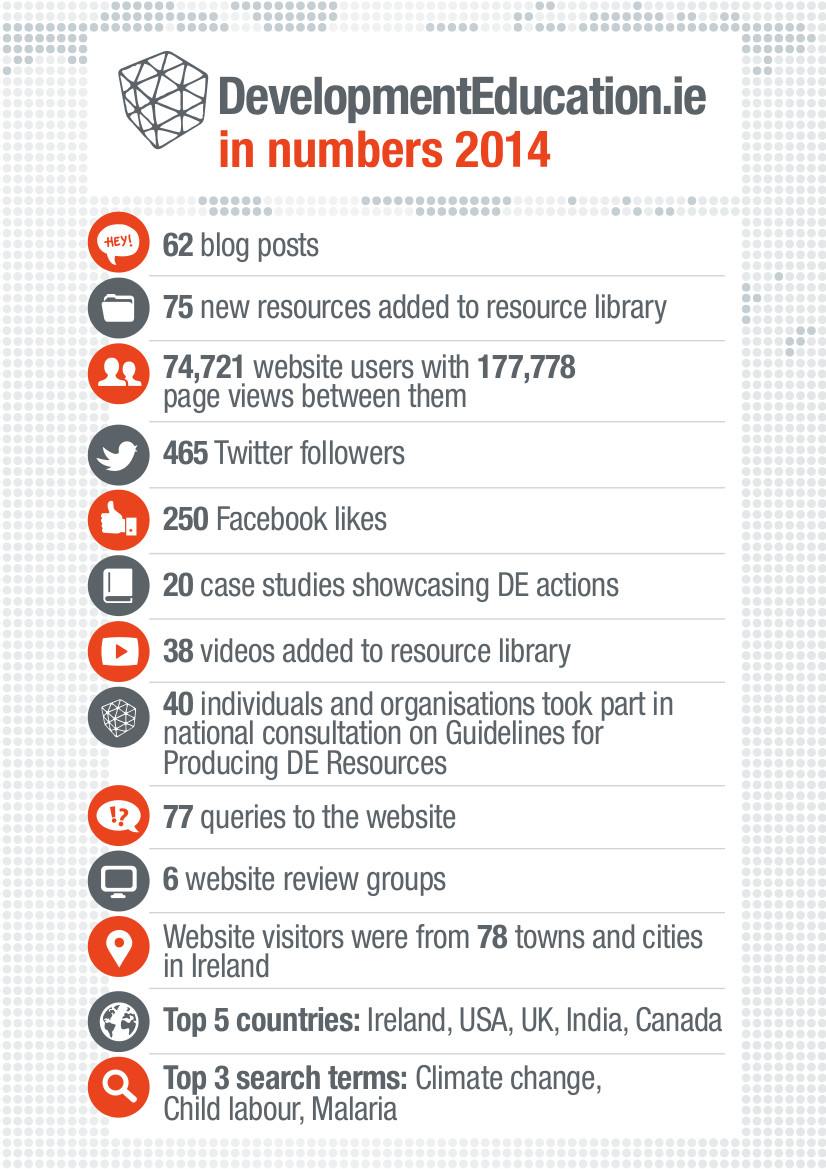 A year's worth of web analytics, research, discussion and collaboration offer some interesting insights which may be of use to DE colleagues. Here, we share 8 of those lessons.
1.     There are still many gaps in DE resource provision and therefore many opportunities (and needs) to fill them
Despite the continued production of resources since the publication of the research audit of development education resources produced in Ireland from 2000-2012 in the spring of 2013, there are still many education and topical gaps in the coverage of issues and debates in DE, despite the oft-cited claim that there are too many resources.
Two of the areas identified by the audit – women's rights and activism – have yet to be adequately addressed and senior cycle is still largely missing in DE resource developments.
2.     Sharing good practice of development education – an ongoing challenge
Some may remember the launch of the DE in Action section in conjunction with IDEA last June, which showcases development education actions and the lessons they offer from school projects to afterschool, youth and community DE action projects. The first 20 case studies we documented were the result of a combination of submissions sent in and online research.
For a variety of reasons, in documenting case studies, people found it difficult to share their experiences and, in particular, the lessons that arise from them. In the case of existing online case studies, these proved very difficult to locate as they were often buried deep in websites after many 'make-overs'.  In some cases, whole organisational experiences have 'disappeared' as organisations have closed or suspended DE work.
Documenting our work is a major challenge for our sector especially in the context of 'proving' the agenda's value and impact.
3.     The 'quality of resources' challenge
Following the publication of the audit of DE resources, the completion of more than 300 annotations for the resource library and the recent guidelines for producing DE resources it is clear that the 'quality' debate in producing DE resources (and how it is defined or measured) remains an issue for the sector.  How to address this challenge should become a priority agenda item for the sector in 2015 – while developmenteducation.ie is happy to play its part in this discussion, the website Management Committee feels strongly that the whole sector needs to pro-actively engage with this debate on quality in DE.
The guidelines were produced as one contribution to this debate.
4.     The need to move beyond the formal
Review of the evidence from the resources and correspondence dimensions of developmenteducation.ie suggests strongly that in recent years primacy has typically been given to formal education sectors, often at the expense of other equally important sectors.  Responding to (and financially supporting) educationally based campaigning, broader public education and non-formal education opportunities are crucial to overall success – DE is not simply an issue for young people – its impact and success is heavily dependent on adults across society.
Active transparent public engagement with development and human rights issues is fundamental for the overall quality and impact of Ireland's development co-operation and justice agendas.  More needs to be done to promote DE in key spheres to complement that underway in schools and colleges.
5.     78:1 the geography of DE in Ireland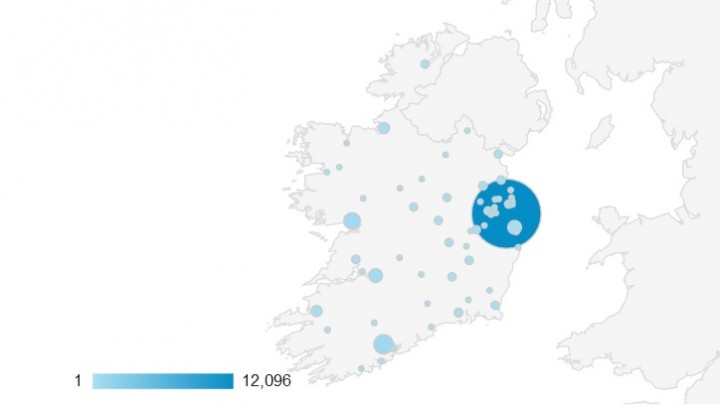 Visitors and readers from 78 towns and cities across Ireland accessed developmenteducation.ie in 2014. The analytics data generated on the website over the past year suggests that the geographical reach of those that access DE debates and content has broadened on previous years – a noticeable trend. Interest in and support for development education is by no means only located in the cities or urban centres, as is often asserted.
6.     Back to basics
A year of survey work and user-group feedback has generated crucial 'temperature checks' for content, ideas and emerging issues in DE on the website. One of the clearest signals we've received in 2014 is that there is still a pressing need for accessible 'entry-level' support materials. On developmenteducation.ie we are constantly being requested for such introductory materials.
Getting back to 'basic is essential in supporting those undertaking DE. With that in mind watch this space – we will very shortly add a range of new introduction-level materials to the site.
7.     Educators are still willing to take on difficult issues
The top 10 most searched words on the website were:
1. climate change;                                               2. child labour;
3. malaria;                                                           4. poverty;
5. 100 people;                                                      6. water;
7. aid;                                                                    8. footprint;
9. jobs;                                                                  10. education.
The top 10 blogs in 2014 included topics covering overconsumption and sustainable development, the conflict in Gaza, the human rights of girls, the human dimension of WWI, wildlife trafficking and women's health.
Despite the impression that development educators frequently look for 'easy', 'soft' or 'safe' topics to explore with groups we have found quite the opposite to be the case: development education is routinely about controversial and contested public issues and debates…this attests to the relevance of much of our work.
8.     Despite the general gloom 2014 has continued to be a 'year of partnership' and progress
2014 marked the 8th year since the global financial and banking crises bit deeply into society at all levels. Despite years of austerity in Ireland, cuts to education, welfare provision and justice structures and programmes including overseas aid development education has continued.
For developmenteducation.ie it was a year of partnership and collaboration; like others we have relied on the time and energy of colleagues to generate new energy and a reinvigorated agendas – this has made so much possible often in very difficult circumstances.
Partnerships in 2014 (for which we are grateful) have included:
with the membership and staff of Dóchas and IDEA  on the guidelines for producing DE resources
for the contributions to the DE in Action section: Schools Across Borders, Irish Aid, Afri, Presentation College (Bray), Lourdes Youth and Community Services, Debt and Development Coalition Ireland, Millstreet Community School (Cork), St Dominic's (Ballyfermot), St Wolstan's Community School (Celbridge), St. Ciaran's N.S., Hartstown (Dublin), Mediterranean Academy of Diplomatic Studies, University of Malta (Malta); Worldwise Global Schools; National Youth Council of Ireland; Waterford One World Centre; Galway One World Centre
and for the many submissions of resources to the resources library – Concern Worldwide, Democracy Center in Cochabamba (Bolivia), Sightsavers Ireland, Goal, Comhlámh, Sadaka, EIL Intercultural Learning, Women's Council of Ireland, KMF Productions, UNICEF Ireland, Ubuntu, Gorta-Self Help Africa, Trócaire and Aidlink.
Many thanks to one and all for your support and your contributions.