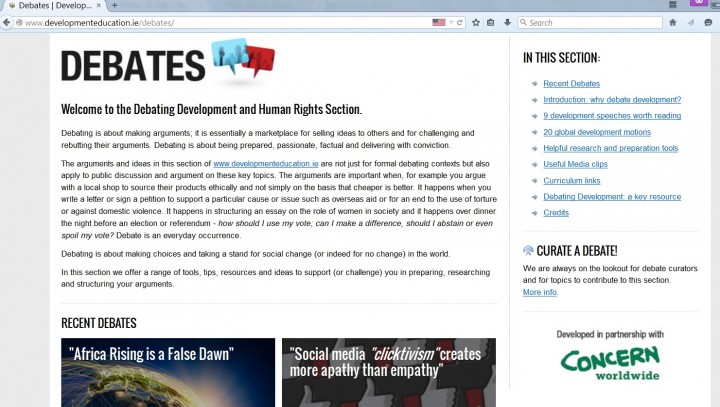 The new Debating Development and Human Rights section, developed in partnership with Concern, went live this week and can be found at https://www.developmenteducation.ie/debates
As well as establishing core debates on an ongoing basis – ones developed by developmenteducation.ie, commissioned or sent in and suggested by others – it has a range of supports for anyone looking to deliver education on development issues using debates as teaching tool with curriculum links and some handy media clips.
The debates features launched with 5 debates:
"Africa rising is a false dawn" by Michael Doorly
"Social media 'Clicktivism' creates more apathy than empathy" by Ciara Regan
"Given recent history, boycotting Israeli products is a legitimate and reasonable action" by Tony Daly
"Attacking overseas aid reveals a deep selfishness and even greed" by Colm Regan
"In Uganda, the HIV and AIDS health epidemic should be tackled through taxation" by Jamie Hitchen
For debaters, a selection of motions, research ideas and key development speeches (we've started with 9 infamous and important development speeches) across a range of issues, such as Aung San Suu Kyi's Freedom from Fear, Malcolm X's The Bullet or the Ballot Box, Vandana Shiva's Time to End War Against Earth and William Wilberforce's Horrors of the Slave Trade.
And for those that fancy curating your own debate? More info here.