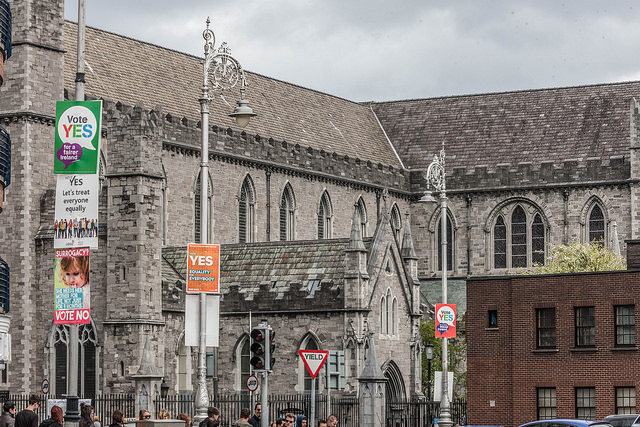 Ireland is the first country in the world to put the question of same sex marriage to a public vote. Taking place tomorrow, the referendum presents voters with a choice whether the Constitution should be changed so as to extend civil marriage rights to same-sex couples.
The proposed bill would insert a new subsection 4 to Article 41 of the Irish Constitution:
"Marriage may be contracted in accordance with law by two persons without distinction as to their sex."
A key characteristic of the debate has been the scale and speed of advocating for social change (in this case with regard to the institution of marriage) that has been taking place in separating the Catholic Church from state affairs in Ireland since the constitution was introduced in 1937.
There are many examples of flash points of contesting social change in Ireland, some of which included the rights of women as equals to their partners within marriage; the right to access contraception; maternity rights and care for children; the decriminalisation of homosexuality.
The private realm of 'the family' has been consistently contested in public spaces going as far back as the foundation of the state. Fintan O'Toole argued yesterday, for instance, that marriage was nothing to be proud of in 1983.
Against this, the backdrop of international trends and issues to which this directly links, becomes important. 2013 was not a good year for stories on gay rights internationally, as reported on our blog in January last year:
"Life sentences, civil society crack-downs, persecution as social justice, supporting incitement to hatred based on social orientation. It has not been a good year for gay rights internationally. A succession of national legal changes, championed by socially conservative religious groups, came into force in last year that criminalise against the most basic rights afforded to gay people – just 3 examples:

India: a 153-year-old law passed under British rule was reinstated which makes sex between consenting adults of the same sex "unnatural" and punishable by up to 10 years in jail. India re-joined the more than 70 countries – mainly in Africa, the Middle East and south Asia – where homosexual relations are illegal.

Uganda: backing down to international pressure from Uganda's biggest donors, Britain and the US, over the tabling of anti-homosexuality laws in 2009, Uganda saw the bill finally rushed through in December 2013. The punishment of homosexual acts includes life imprisonment for merely touching.

Russia: suppressing homosexuality and a fledgling gay rights movement was at the forefront of legislation introduced in June. Just one deputy abstained from voting on the bill from 437 parliamentarians, which bans the spreading of "propaganda of non-traditional sexual relations" among minors. The law in effect makes it illegal to equate straight and gay relationships, as well as the distribution of material on gay rights."
As a country seen to champion human rights on the international stage (see Ireland's international development policy; seat on UN Human Rights Council; co-chair of the negotiations with Kenya for the Sustainable Development Goals etc.) Ireland has a strong tradition of being at the forefront of putting global solidarity, international justice, peacekeeping and human rights standards into practice, particularly in developing countries.
Whatever the outcome of tomorrow's referendum on marriage equality in Ireland the world will be watching closely as old traditions are tested and, when enough people want it, sometimes give way to establishing new ones.
…………………………………………………………………………………………………………….
More on the marriage referendum at https://www.irishtimes.com/news/politics/marriage-referendum