It's that time of the year again when news bulletins start carrying pieces on homelessness, or elderly people living alone, and weather forecasters start early predictions of whether or not it will snow on Christmas Day. And I pull my neck into my collar and mutter decidedly un-Christian epithets into my beard.
A long time ago, I was introduced to the notion of a small new-born child whose family had to escape into another country to avoid the bloody slaughter carried out by a puppet ruler in a remote province of the Roman Empire. Occasionally I have used the image of Joseph, Mary and the baby Jesus as a starting point for a discussion on the experience of refugees – not that uncommon an experience, with nearly 71 million forcibly displaced people in our world today. But I find the apparent concern for the excluded and persecuted at this time of year as superficial as the tinsel and glitzy packaging that seems to be an essential part of Christmas celebrations.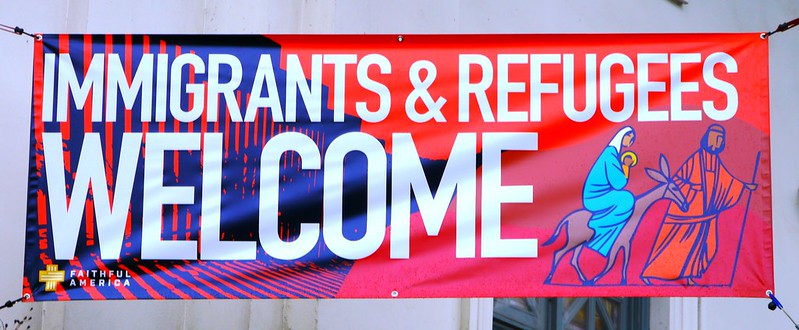 "And she gave birth to her first-born son and wrapped him in swaddling cloths, and laid him in a manger, because there was no place for them in the inn."
Before you can say "Bah, humbug", let me say that I look forward to celebrating Christmas with my family and friends every year, but increasingly find a disconnect between what I think my Christian faith is about and the commercialism which ensures that news items about homelessness before December 25, will be replaced by reports on retail sales and drink-driving offences afterwards.
At any point in history, the birth of a child offers hope for new possibilities. Having welcomed a third grandchild into our family this year, it's impossible not to think about the kind of world he will inherit from my generation: will he have the benefits of health care, the educational opportunities to develop his talents, the security of a world where it is safe and healthy to live and travel, where we can trust one another, where people who look, dress, believe, speak differently from him are potential friends and collaborators in creating a world that is safe and healthy for him and (please, please God) future generations?
It has been one of the great privileges in my life to have spent very brief times among some of the poorest communities on the planet: I think particularly of a Christmas spent in a care home for the elderly in France, where I had the privilege of making a fuss over people largely forgotten by the world, or the Brazilian community who laid on a party for us, their visitors from the "First World", or the villagers in Sierra Leone who celebrated with us in dance. Whatever they had to offer was freely and joyfully shared.
Wherever you are, whatever your own beliefs, I hope that you can share something of the Christmas message: a world that welcomes the stranger and outsider, where children don't die in leaky boats escaping hunger and conflict, and where we all learn to treat the planet as though all our lives depend on it. Now that would be good news.
Have a peaceful and joyful Christmas.
John Dornan has been a development education activist for over four decades and recently retired as project manager of global education at the Conforti Institute based in Coatbridge, Scotland.

John also worked on the Just Scotland? campaign and is co-author of the forthcoming featured series on Faith, Justice and Development on developmenteducation.ie