Start time: 6pm
The exhibition will be launched by:
a representative of Irish Aid – the Irish government's official aid programme
Caoimhe de Barra, Chief Executive Officer, Trócaire
A number of reflections from object contributors Fiona King (NCAD) and Joe Murray (Afri)
Chaired by Valerie Lewis, Post Primary Educational Policy and Development Officer for Education and Training Boards Ireland (ETBI) and chairperson of 80:20 Educating and Acting for a Better World
This online event will also launch a suite of new teaching materials that accompany the objects.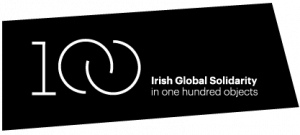 The Irish Global Solidarity in 100 Objects online exhibition follows the success of the pop-up exhibition in February 2020 on the site of Green's Booksellers and offers a glimpse into key moments, aspects and institutions that have animated that search. From the film reels by the Holy Ghost missionaries documenting conflict on the ground in Biafra in the 1960s to anti-apartheid Dunnes strike posters, education campaigns on HIV and AIDS and County Wicklow declaring a climate emergency and more.
Join us for Culture Night as part of a unique online gathering mixed with stories, reflections and a unique national event.
Irish Global Solidarity in 100 Objects is organised by developmenteducation.ie, an online hub focused on learning about the unequal and unjust shape of the world today, and is coordinated by Aidlink, Concern Worldwide, the Irish Development Education Association, the National Youth Council of Ireland, Self Help Africa, Trócaire and 80:20 Educating and Acting for a Better World and is part-funded by Irish Aid.