A university based initiative in Maynooth explores whether it is possible to take account of a whole-campus footprint that seeks to monitor, manage and reduce its environmental impact.
Maynooth Green Campus (MGC) is a strategic coalition between Maynooth University (MU), St Patrick's College Maynooth (SPCM) and Trócaire that seeks to promote environmental sustainability and climate justice. MGC's goal is to achieve the Green Campus Flag. The Flag is an international award and the award scheme is co-ordinated by the Foundation for Environmental Education, based in Copenhagen.  The Flag is awarded to third level colleges that satisfy an assessment of progress undertaken by An Taisce.
To reach this goal MGC created a roadmap with a set of realistic objectives that fall under a number of thematic headings: Biodiversity, Energy Management, Water Conservation, Waste Management, Sustainable Travel and Transport, and Climate Justice.
Biodiversity
The MGC Biodiversity Working Group (BWG) is involved in numerous initiatives and activities focussed on developing a diverse range of habitats and maximising the biodiversity value of the campus. This includes:
preparation of habitat maps
creation of species record and identification databases
establishment of outreach and educational programmes to inform and involve the campus and wider communities
coordination of annual Bioblitz events and BioDiversity Days
Froebel College of Education rooftop garden: As part of the transfer of Froebel College of Education to the Maynooth University campus as the Froebel Department of Primary & Early Childhood Education (2013) it was agreed that a model school garden would be incorporated into the new School of Education building (2016).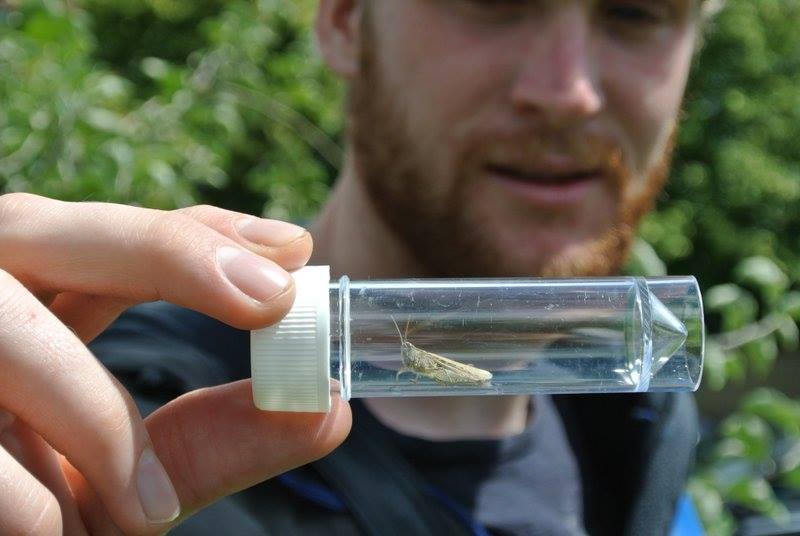 Climate Justice
The MGC climate justice working group seeks to highlight issues, raise awareness, promote policy change, practical action and support the empowerment of communities facing the effects of global warming and climate change.
Partnership: the Maynooth Green Campus Committee promotes partnership between Maynooth University, Saint Patrick's College, Maynooth and Trócaire, on climate justice, and is committed to best practice on environmental sustainability on campus.
Since 2008, Trocaire have campaigned for climate justice in Ireland, lobbying for a binding climate law, which was finally passed in December 2015, and internationally to demand resource rights and climate action from national governments. In June 2015, Trócaire co-hosted a major conference 'Meeting the Challenge of Climate Justice: From Evidence to Action' at Maynooth University.
Maynooth University is the first University in Ireland (June 2015) to commit itself to a fossil free investment policy and has no investments in fossil fuel related funds.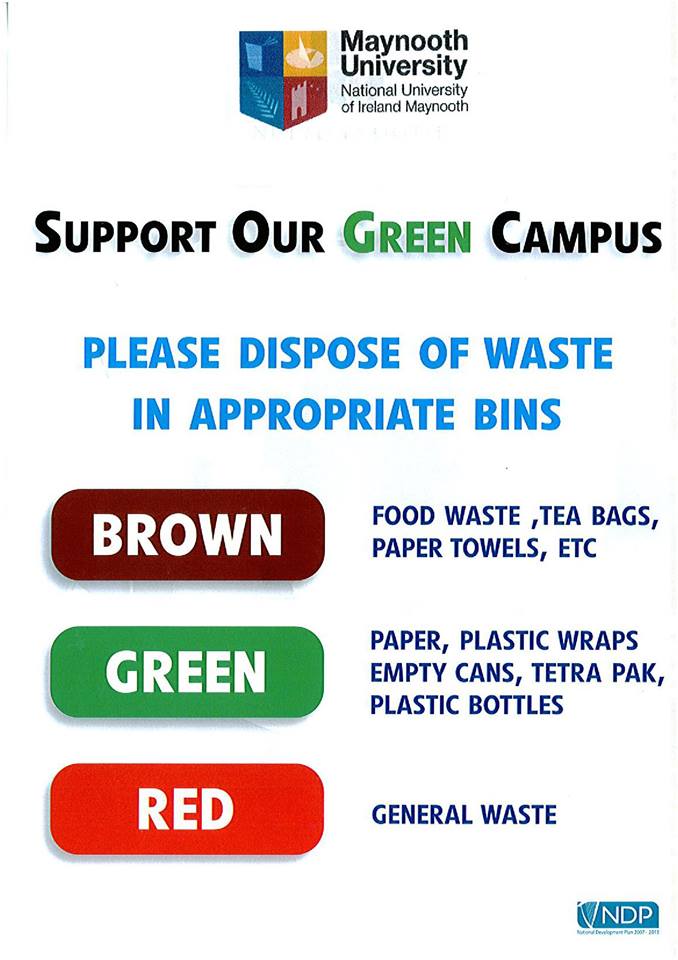 Waste Management
committed to reducing the volume of waste generated in additional to increasing the proportion of waste which is recycled.
implement sustainable resource management practices based on Reduce, Reuse and Recycle principles
reduce the acquisition of new materials by re-using existing materials and increasing recycling to the highest possible standards.
All waste is disposed of in a manner consistent with statutory requirements and procedures are documented.
use the University web pages as a platform to keep the staff, students and wider stakeholder community informed of the University's waste policies and procedures.
Water Conservation
Water is an increasingly valuable resource which must be managed efficiently. The University monitors consumption at several locations on campus and is committed to reducing wastage and leakage where possible. In seeking to minimise our water footprint, a number of water saving initiatives have been undertaken to ensure that water is used more efficiently, even as numbers of students and new buildings increase on campus.
Sustainable Travel and Transport
promote the uptake of sustainable transportation options for both staff and students coming to the campus
encourage the use of public transport, using the bus or train, or cycling and walking
covered bicycle parking, bike repair stations and weekly cycle clinic and a real-time public transport display
For those needing to drive, the use of Car Pooling is encouraged with reserved spaces and guaranteed lift home scheme.
The University's dedicated Parking and Traffic Management office works full time to implement campus transportation policies and nurture user compliance with regular engagement via promotions to raise awareness
Through a number of traditional and electronic outlets they can get across the University's support for a green approach to transport usage.
Energy Management
install energy efficient technology when building and refurbishing
installed "on site" electricity generation in the form of a number of Combined Heat and Power Plants (CHP)
commissioned a Solar PV installation on the roof of one of our buildings.
embraced electric vehicles and provide four charging points on the North Campus for students, staff and visitors.
purchased a number of small electric commercial vehicles for use by University colleges.
The Maynooth Green Campus Committee (MGC) was officially established in December 2012 and works in partnership with stakeholders from St. Patrick's college Maynooth (SPCM), Maynooth University and the Catholic world development Trócaire, headquartered on campus.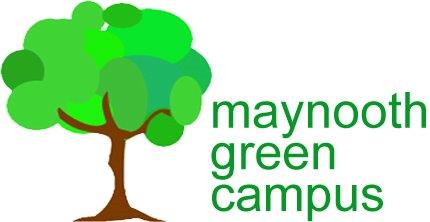 Activities and events organised by MGC include:
Marchathon – "Let's get walking, join the 10,000 Step Challenge"
Public talks: "The Dangers of Landing on a Comet Twice" – talk by Laurence O'Rourke
Paris2015: Climate Change, COP21 and beyond – a contested pathway to transformation that must be built on principles of justice and collaboration. Maynooth Green Campus & Dr Conor Murphy
Maynooth Green Campus with Prof. John Sweeney & Trócaire's Dr Lorna Gold talk to accompany a live feed from the Paris Climate Talks
Nutrition and Resilience – Maynooth Green Campus and Trocaire talk by Ann Tutwiler, Director General of Bioversity International, on nutrition and resilience.
Biodiversity Day – hosted the 2nd annual Biodiversity Day to highlight the progress of the All Ireland Pollinator plan across the region. The AIPP provides guidelines and actions to help protect important pollinating insect species and reverse the dramatic declines observed in the numbers of our native bee species over the past decades.
Maynooth Green Campus Statement on the decision by US President Donald Trump to renege on the commitments made in December 2015 as part of the Paris agreement signed under the United Nations Convention on Climate Change.
Ezines
Support International Day of Peasant Struggle to recognise and acknowledge the difficulties faced by diverse food producers in a world in which one-tenth of humanity experiences hunger.
Hosted an event on April 13 to discuss and debate how to create alternative food futures in Ireland and beyond. During this one-day event, attendees contributed and shared their experiences about creating alternative food futures.
Car Share campus
Appointment of a Sustainable Travel Co-ordinator;
Joining the Smarter Campus Travel Partner Programme
Introduction of car parking demand management where the parking on campus either required a valid permit for staff and students or was pay and display for visitors
Promotion of sustainable modes of travel
Car Sharing Website carsharing.ie/nuim
Introduction of designated car-pooling parking: car poolers display at least two permits on the car in order to avail of dedicated parking spaces
L.H (Guaranteed Lift Home) Scheme to guarantee staff and students who are formally participating in the Car Share Initiative a return journey home in the event their car share partner lets them down due to unforeseen circumstances
Co-operation of the campus community in delivering results.
Developed an updated Green campus strategy
Did we succeed
MGC was awarded the Green Campus Flag in September 2018. The Green Flag Award is given for work undertaken to promote best practice in sustainability across five themes, including energy, water, waste, travel and transport, and biodiversity. Maynooth Green Campus added an innovative sixth theme, Climate Justice, in its bid to get the award.
Maynooth University was named the "Car Share Campus of Year 2017" by Smarter Travel Workplaces, which is a public awareness programme working with large employers to implement voluntary workplace travel plans.
In 2016, Maynooth University became an official partner to the All-Ireland Pollinator plan, an initiative led by the National Biodiversity Centre to promote management practices that benefit our threatened native pollinators.
For more information on the ongoing work and impact of MGC, see Maynooth Green Campus updates.
Main photo: electric van used in Maynooth University as part of the Maynooth Green Campus initiative. Photo: Maynooth University