A project led by members of the Comhlámh Belfast group raising awareness about resource extraction in Ireland and internationally through solidarity and nurturing our relationship with the earth.
Who we are
Members of the Comhlámh Belfast group; Links with members of the Save Our Sperrins campaign in Co. Tyrone; Solidarity with the campaign in Peru through the participation of Linda Sullivan in that campaign.
What we did
Angered and inspired by a community in Peru who have been working for years to resist the expansion of a gold mine in Cajamarca, a group of educators in Northern Ireland wanted to get together to show solidarity with this community and raise awareness of what was happening throughout schools in the north. Along the way, it emerged that there were also plans to mine for gold in the Sperrins, Co. Tyrone, and a link between the two campaigns emerged.
The main issues explored are around the earth's resources, our relationship to the resources and the impact of mining on communities and the environment. The actions of the group were informed by compassion and nurturing a connection to the earth as a way to understand these issues – engaging the heart as well as the head.
The 3 big ideas that emerged included:
Organising a 'walk and talk' to learn about the issues through spending time in the natural environment and deepening our connection with nature.
Developing a schools resource to nurture students' learning about this issue affecting communities locally and globally.
Strengthening solidarity between environmental campaigns in Ireland and Peru through films and discussions.
How we did it
A group was formed under the banner of 'Comhlámh Belfast' – made up of global educators, activists, returned volunteers and those interested in global justice from Ireland. We explored what action to take together and an interest in awareness raising about mining in Peru emerged. We linked with a local campaign against gold mining in Co. Tyrone and local/ global solidarity connections were established. The group got together to plan, some funding from Trocaire was received to progress the idea further.
The actions included:
Letters to BBC and Environment Minister
Taking a walk in the area being proposed for mining
Film and discussion with a speaker involved in Peru campaign.
Writing an education resource… scheduled for autumn 2019 publication.
Did we succeed?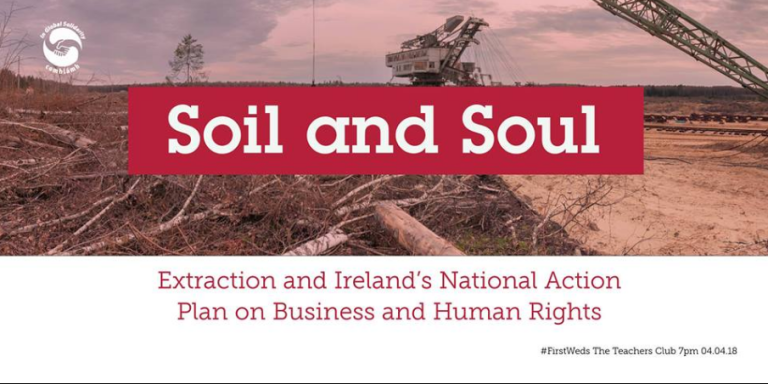 This is a strong example of development education as it was all about solidarity and action emerging from a specific need.
It was also a desire and a call to do activism and global education work a bit differently – connecting to the issues from an emotional perspective rather than just the facts and 'head' issues. It is also a great example of how local and global perspectives can nurture both sides of the learning and understanding of issues like resource extraction and community engagement.
Tweet: post-conference summary of the April 2018 Save our Sperrins (SOS) conference from committee chairperson Cormac McAleer
Solidarity locally and globally was also something that naturally emerged and was the fuel to keep everyone going throughout. The issues involved include: water, debates over ownership of natural resources, impact of mining on communities and environment, where our 'stuff' comes from and at what cost we are willing to dig stuff out of the ground, longer term impact of our choices.
So far we feel we have succeeded in what the group wanted to do – in the bigger picture we would like to stop the expansion of the mine in Peru and stop any plans for development of the mine in Tyrone, but this will be beyond what our small group could achieve – but we keep it on the radar as a long term sign of success.
Gareth Conlon is Volunteer Engagement Project Officer with Comhlámh
Featured photo: on tour in The Sperrins. Photo: Comhlámh