Photo credit © Villages from the air, Yemen. Photo: Gerry & Bonni
Ciara Regan reports on Stop Funding Hate – a movement of people who refuse to be demonised or divided against each other and who have come together to challenge divisive hate campaigns of the Sun, Daily Mail and Daily Express by persuading advertisers to pull their support.
Stop Funding Hate is a movement of people who refuse to be demonised or divided against each other. It's core team includes volunteers from a range of backgrounds – media, advertising, law, human rights and campaigning – who have come together because they believe something has gone wrong with the way the press portrays some of the most vulnerable in society.
Their request is a simple one: to help them take on the divisive hate campaigns of the Sun, Daily Mail and Daily Express by persuading advertisers to pull their support, using social media as the main platform for communication.
Since the campaign launched in August 2016, hundreds of thousands have joined them on social media and taken action to encourage brands to pull their advertising from the Sun, Daily Mail and Daily Express.
What we do

The big idea behind the Stop Funding Hate campaign is the concept of ethical advertising – the idea that advertising is, and should be, a business and human rights issue.
If a newspaper is publishing stories that demonise migrants and fuel xenophobia, then the advertisers who fund that newspaper have to take some responsibility.
In order to tackle xenophobia effectively then conversations need to be had with advertisers to try and encourage them to switch their advertising away from publications that demonise migrants – and towards those outlets that behave responsibly and fairly.
The Stop Funding Hate campaign started in August last year but already has tens of thousands of supporters in the UK and over 200,000 followers on Facebook. The campaign videos have been shared hundreds of thousands of times on social media and been seen by millions of people.
The people behind the campaign believe that the reason they've seen this huge response is that a great many people in the UK are deeply concerned about the rise in xenophobia (and the role of the UK media in that problem) and are looking for constructive things they can do as individuals to push back. Organisers also believe this is an approach that people can see cuts to the heart of the problem. If enough people use their voice as consumers, then companies will start to respond.
The campaign's first big success was in November 2017, when the global toy brand Lego agreed to end its promotional partnership with the Daily Mail – a newspaper that is notorious for its demonisation of migrants and has been called out by the UN High Commissioner for Human Rights over its coverage. In recent months number of other companies who have communicated that they have switched their advertising as a result of the campaign.
And it's not only in the UK – in the United States almost 2,000 advertisers have stopped their promotions with a notorious website, Breitbart, following a consumer campaign organised by another very new group called Sleeping Giants.
There is a growing global movement of ordinary citizens working together to push back against the rise in xenophobia and racism by using their power as consumers. Stop Funding Hate is a part of that movement. The campaign believes that this shows that ethical advertising is an idea whose time has come and  that it's an idea that – if applied on a large enough scale – could really help to tackle this demonisation of migrants within the media, because part of the reason that these hateful stories are getting published is that hate is part of the business model.
This drip-drip of front page stories, demonising migrants, is clearly very divisive. But it can also be a very effective way for a newspaper to boost its sales  and this in turn boosts its advertising revenue.
'…if we want to change this we have to find a way to make hate unprofitable. We need to reach a critical mass of big companies who will publicly commit to advertising ethically – to make it part of their corporate social responsibility policy that they will not advertise in publications that incite hatred.'
Everyone is familiar with the now infamous Christmas ads from UK supermarket chains such as Marks and Spencer, John Lewis, Sainsbury's, Tesco and so on.
For Christmas 2016 and again for 2017, Stop Funding Hate decided to run their own advertising campaign through social media, directly challenging the messaging from these ubiquitous ads: to show love and caring for others, even if they are strangers at this special time of year. However, once Christmas is over, the campaign claims that the money spent by consumers 'buying' this message is then spent buying advertising space in newspapers with the exact opposite message: that some of us are a problem, a burden or a threat. Stop funding hate's claim is that the money spent on values shared at Christmas is then used to stir hostilities with the most vulnerable in society, dividing us against one another – a direct attack on the values in the aforementioned Christmas ads.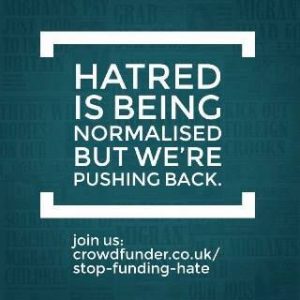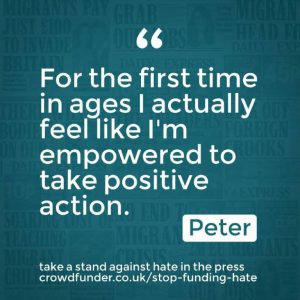 The campaign uses these ads to call upon consumers to joint them in asking and challenging these supermarkets to uphold these values they claim to represent.
Is the campaign succeeding?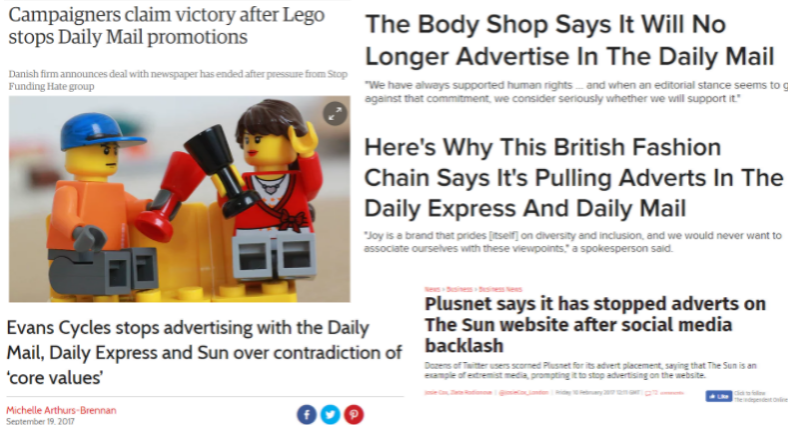 There is now a growing list of ethical companies (over 35 and counting) who do not advertise in the Sun, Daily Mail or Daily Express. For both print and online advertising, consumer pressure is working. The Stop Funding Hate Campaign is ongoing and still running. It can be followed through their Facebook and Twitter accounts. Some of their successes to date include:
In September 2016, Specsavers (one of the campaign's targets) withdrew an advert from the Daily Express after hundreds, including Stop Funding Hate, complained it was funding 'fear and division'
Following calls from the campaign and its supporters, as mentioned above, Lego announced in November 2016 that it was ending its promotional partnership with the Daily Mail
The most recent win from the campaign was in November this year (2017), when stationary chain Paperchase pulled a promotion it was running through the Daily Mail, having received backlash through social media for their decision to associate with the notorious newspaper.
In late 2018, Stop Funding Hate secured wording in the United Nationals Global Compact on Migration, committing the 152 signatory nations to not funding media that promotes hate, including through advertising.
We have finished the agreement with The Daily Mail and are not planning any future promotional activity with the newspaper

— LEGO (@LEGO_Group) November 12, 2016
*Confirmed* Congratulations to Paperchase, who have promised not to run any further promotional partnerships with the Daily Mail. They have acted promptly in response to customer concerns – this is great news in the run-up to Christmas! #StartSpreadingLove https://t.co/uTKWBdXokC

— Stop Funding Hate (@StopFundingHate) November 20, 2017
Unfortunately, Stop Funding Hate Campaign team members have been subject to violent threats and harassment through social media as a result of misleading articles published in the Daily Mail about them and the Campaign. In response, SFH released the following statement on the 1st of December 2017:
"Following a series of highly misleading articles about Stop Funding Hate in the Daily Mail and other UK press, several individuals involved in the campaign have been subjected to violent threats and harassment through social media.
We will not be silenced by these attempts at intimidation.
Stop Funding Hate is about polite and friendly engagement. As always, we encourage everyone who supports the campaign to keep it civil, and not to respond in kind to abusive behaviour.
But when members of our team are threatened, we will act within the full extent of the law.
Stop Funding Hate has reported a number of these malicious communications to the police, and will take further action if required.
We're grateful for the support and kind words of many friends and allies over the past week.'
This can only mean one thing. The campaign is working.
For more, visit stopfundinghate.info