Thirty-six students launch a poster art series  on the women's rights, the arms trade and equality gaps on March 8th, 2019, International Women's Day.
Who we are
Loreto Bray Peace and Justice Group, 80:20 Educating and Acting for a Better World
What we did
A central idea to the posters by the students and project team, on exhibition at the launch event in Bray Library in Co. Wicklow, spoke in celebration of past achievements in the women's rights movement and in protest when comparing them to similar and ongoing daily struggles experienced in the lives of women and girls in today's world.
Actions, not words; four stealth bombers greater than or equal to the annual cost of ending maternal mortality?; the gender pay gap; education and 'the girl effect' – a sample of some of the most important issues for girls and women raised by the group in the poster work discussions and exercises.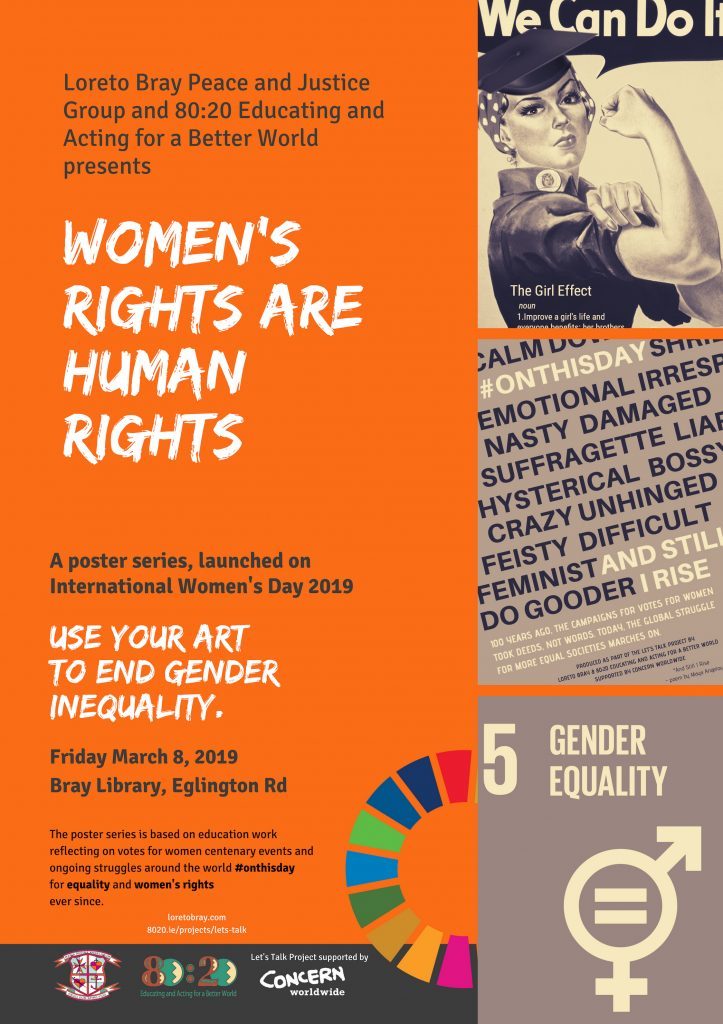 In developing the Use Your Art to End Gender Inequality posters the Peace and Justice group marked the centenary year of suffrage activities and commemorations as reference points for young people, particularly girls, to:
learn about and be inspired to act on women's rights (and wrongs);
as a reminder of and a tribute to the power of posters historically in generating conversations and interest in women's issues, an;
as a mirror to highlight examples of gender discrimination and violence women face every day in public life, in the labour market and at home.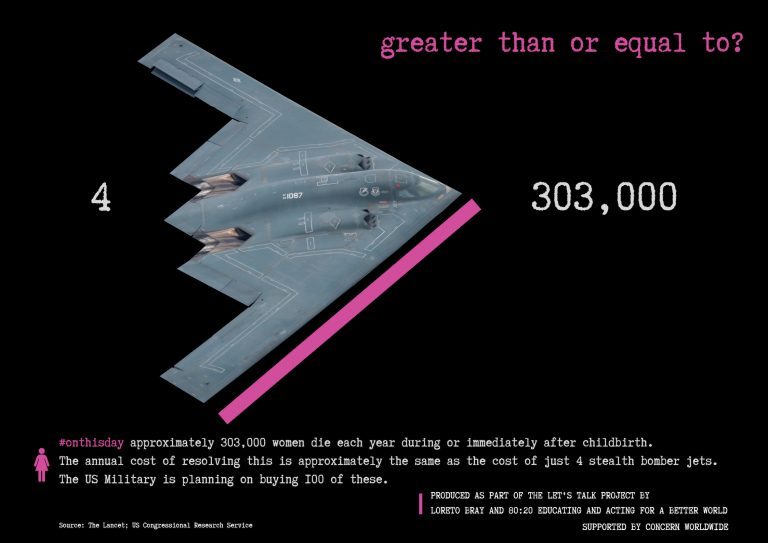 Participants were involved in a range of cluster group activities over a 17 month period, including:
Exploring (1) centenary of women's franchise events and debates, (2) global trends and realities of violence encountered by women every day, including the #MeToo movement, (3) a series of key international standards such as the Convention on the Elimination of All Forms of Discrimination Against Women (CEDAW) and the Sustainable Development Goals (SDGs) with international development targets to end poverty, protect the planet and ensure that all people enjoy peace and prosperity, and (4) selected case studies, such as the Rohingya crisis, through a gender lens.
Reviewing artwork from previous women's rights poster campaigns over the last 100 years
Meeting the chair of the Vótáil 100 committee to mark the centenary of women's suffrage in Ireland, Senator Ivana Bacik, and visiting an exhibition on women's suffrage in the Seanad ante-room
Hands-on poster art making workshops and action-research ideas
Forging links, conducting visits and sharing peer learning across an informal network amongst teachers and students in Bray.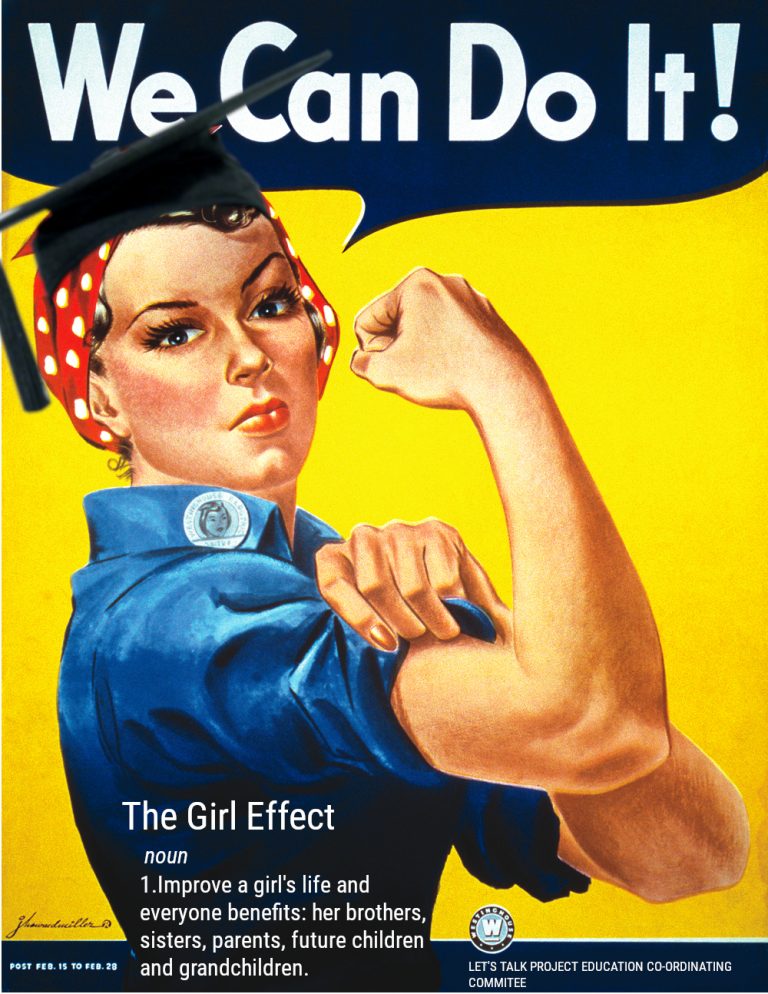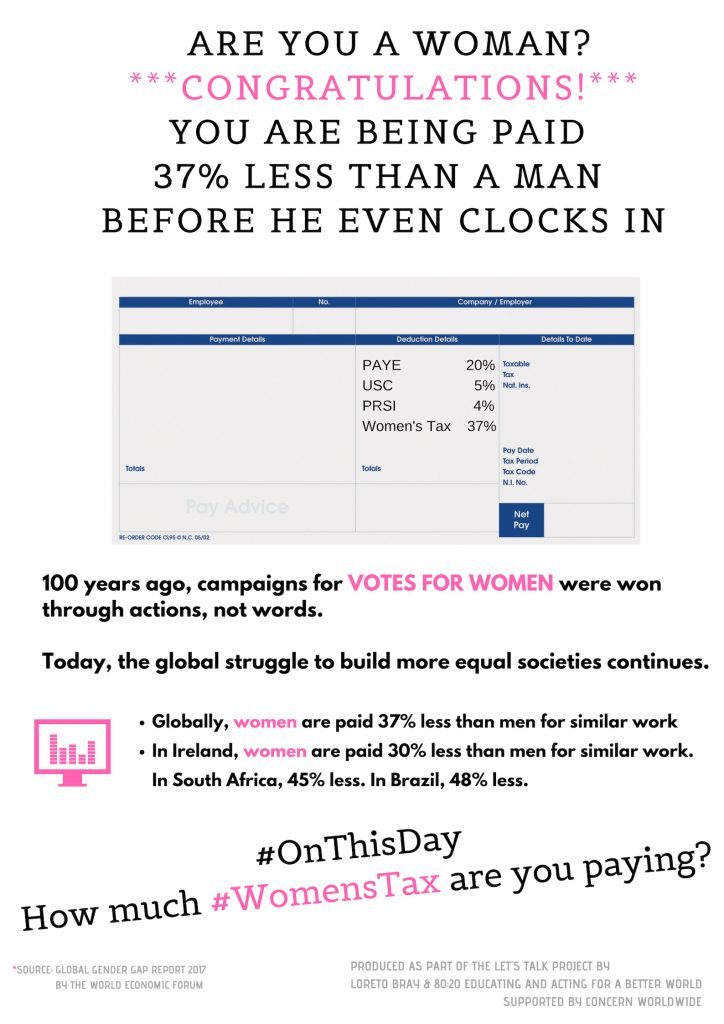 Background data
Poster 1:  Women's Tax
Poster 2: We Can Do It
Poster 3: And Still I Rise
Poster 4: Greater Than Or Equal To?
For more information on the initiative, check out the Let's Talk project page at 80:20.