Walk for Water works to highlight the crises of unequal access to water and sanitation around the world, it aims to highlight the centrality of water and sanitation to human development, to health, to nutritional status, to education, particularly for girls.
International World Water Day is held annually on the 22nd March as a means of focusing attention on the importance of safe and accessible water for all, and advocating for the sustainable management of fresh water resources. It focuses public attention on critical water issues such as the fact that 6,000 children die every day from diseases associated with lack of access to safe drinking water, inadequate sanitation and poor hygiene.
The aims of our campaign include:
To highlight the issue of unequal access to water globally, particularly in sub-Saharan Africa and how this impacts on the girl child and their participation in education
To demonstrate the integrated nature of development and the value of looking at root causes
To profile the programme work done by Aidlink and our partners, particularly the Water and Sanitation programme implemented by the Girl Child Network in schools in Kajiado Kenya
To communicate the message that ending the water and sanitation crisis would help break the poverty cycle, increase school attendance, and save lives.
Participants
10 schools (1000+ students (female and male) from around Ireland participated in the Walk for Water project in 2012:
Ursuline Convent Waterford
Midleton College Cork
St. Andrew's College Dublin
Newtown School, Waterford
Seamount College, Galway
Loreto College, St. Stephen's Green, Dublin
Loreto Abbey, Dalkey, Dublin
Loreto Beaufort, Dublin
St. Vincent de Paul Girls School Griffith Ave, Dublin
St. Josephs National School, Kinvara, Galway
Timeframe
On World Water Day, the 22nd of March (and over World Water Week 19th – 25th March) students participated in a 6 km solidarity walk as part of the global Walk for Water campaign.
3 Big Ideas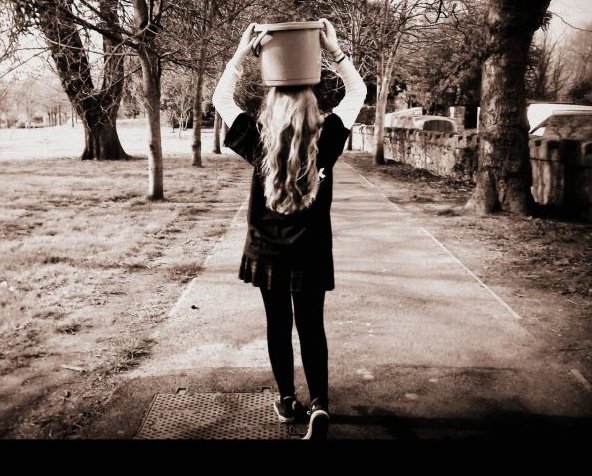 Water is vital for human development
Girls are particularly affected by the unequal and unjust distribution of water resources worldwide
An indigenous Kenyan organisation – The Girl Child Network is addressing the challenge with support from Aidlink
Materials
Very few materials were required for this campaign. Students sourced water vessels and water. Aidlink provided participating students with t-shirts to wear during their walk.
Process
The logic behind the campaign:
Water and sanitation are central to the work of the Girl Child Network and Aidlink
Walk for Water, the global campaign incorporates a set of important shared values
Walk for Water provided us with an opportunity to communicate the significance of water and its far reaching impact on the rural communities we work with in Kenya.
The campaign process:
Aidlink contacted secondary schools, at Transition Year level and invited them to join the campaign
We visited many of the interested school to work with both students and teachers on the core theme
Participating schools decided on an appropriate walking route and time for the group; locations ranged from cityscapes in Dublin Central, to seascapes in Kinvara in South Country Galway
Aidlink coordinated a media campaign that provided us and the participating schools with print, radio and television coverage.
Case Study: Integrated Nature of Development campaign focus

Water and sanitation is central to the work of Aidlink and our partners, but it is a key determining factor for much wider human and economic development outcomes. Walk for Water aimed to highlight the integrated nature of development and the impact insufficient water supply has on girls in Sub Saharan Africa.
In Kenya a young girl travels an average daily distance of 6km by foot, carrying up to 20 litres of water on the journey. As a result of the time it takes to collect water, many girls are unable to remain in school and without education find themselves caught in a cycle of poverty. This directly impacts on the food security and health of a young woman, her family and community.
Clean and accessible water is proven to bring about real development Improvements. The construction of sanitation facilities such as water tanks and girl friendly latrines by our partner in Kenya the Girl Child Network, has increased enrolment of girls in education by 25% and absenteeism has reduced by 65-70%. Retaining Maasai girls in education has also reduced the numbers of child marriages and the prevalence of FGM.
Aidlink works to promote an understanding, especially amongst younger people, of the root causes and realities of poverty. Student participants in Walk for Water are supported in understanding key dimensions of the issue and in subsequently responding through specific action – undertaking the walk.
Project Learning
Some of the aspects that made the campaign a success for us were:
The message is an accessible one: The value of education and the right of every girl to access it; this is a message that Irish students can relate to.
The physical and outdoor aspect of the campaign (walking) appealed to both students and teachers.
The campaign did not require a huge investment in time, money or logistics
The campaign allowed a large group of people to be collectively and visible involved in an act of solidarity
The action based nature of the campaign lends itself well to media coverage of the issue itself and of the students' response. It offered value and appeal to print media and photographs were featured in various publications including the Irish Times. It also presented an opportunity for discussion and debate and was featured on Newstalk's Global Village show as well as RTE Radio 1 (popular John Murray morning show) and regional radio, featuring 6 students interviewed about the Walk for Water campaign having collected water from the River Dodder.
Measuring Impact
From our perspective, we felt the project was very successful in that a significant number of schools and students participated; the feedback from teachers and students alike was positive (people liked doing something tangible and productive, rather than simply talking about the issue); the coverage of both the project and the issue itself in the media was satisfactory and did pick up on the key points re the impact on girls and their education.
Feedback from schools, teachers and students allowed us to assess the project.
Links to Project Activities
https://aidlink.ie/index.php/walk-for-water-2014 – main Aidlink page with project information
A short film on International Walk for Water, highlighting the importance of clean and accessible sanitation for everyone; includes a picture of girls from Beaufort and Seamount taking part in Walk for Water:
Media pickup:
Other Information
For additional information and analysis of water issues, see the Water and Sanitation module on this website: developmenteducation.ie/issues-and-topics/water-and-sanitation
Featured photo: Walking for water by Aidlink.