This developmenteducation.ie 4-part series argues that any understanding of development which disregards the role of faith is lacking a key dimension for a substantial proportion, perhaps a majority, of humanity. But can we identify precisely what that key dimension offers which might otherwise be missing?
In the fourth part of the series, John Dornan and Suzanne Bunniss explore how the equality and empowerment of women relates to religious faith and development.
Jesus said to the woman, "Your faith has saved you; go in peace."
There is an old saying that 'women hold up half the sky'.  Women make up half of the world's population and a good, fair and just society simply can't be built without them.
It is 2020, and surely just being female should no longer be a systemic disadvantage; why wouldn't women be equal to men in their rights to education, healthcare, political participation, economic development and decision-making at the highest levels?  It might seem that achieving such a world should be natural; yet somehow, as Ciara Regan states in her opening to a chapter on women and development in 80-20 Development in an Unequal World (2016):  'despite progress, the realisation of this equality remains a distant dream'.
Box 1. Facts and figures on women and development
Women bear the responsibility of collecting water for their families, and can spend up to 6 hours each day to fetch it — some have to walk nearly 4 miles to reach the nearest water source.
Women spend a disproportionate amount of time doing unpaid care work. They spend an average of 1-3 hours more a day on housework and care for children or extended family members up to 10 times more per day than men.
Across the world, women earn about 60-75% less than what men earn. Women often work informal, unpaid jobs, with less mobility in formal job settings and un unequal representation in unions.
Globally, women only make 77 cents for every dollar earned by men for work of equal value
Women and girls make up about 70% of all human trafficking victims
Source: Fair Trade Winds
Worldwide, faith is on the rise. Christianity is the world's largest religion with 2.3 billion followers. 1.8 billion people are Muslim, 1.1 billion are Hindus while Buddhists, Jews, folk religions and other religions make up the rest of the religious picture. More than 80% of the world's population profess religious belief.
This means most people in the world are people of faith in some way or another; and of course, half of those are women. Taken together – the churches, mosques, temples, synagogues, gurdwaras, shrines and pagodas of the world are places that have the potential to lead and influence major social change in how we think about, act towards and empower women.
By way of a brief snapshot, look at responses to religious affiliation in a UK census from 2011: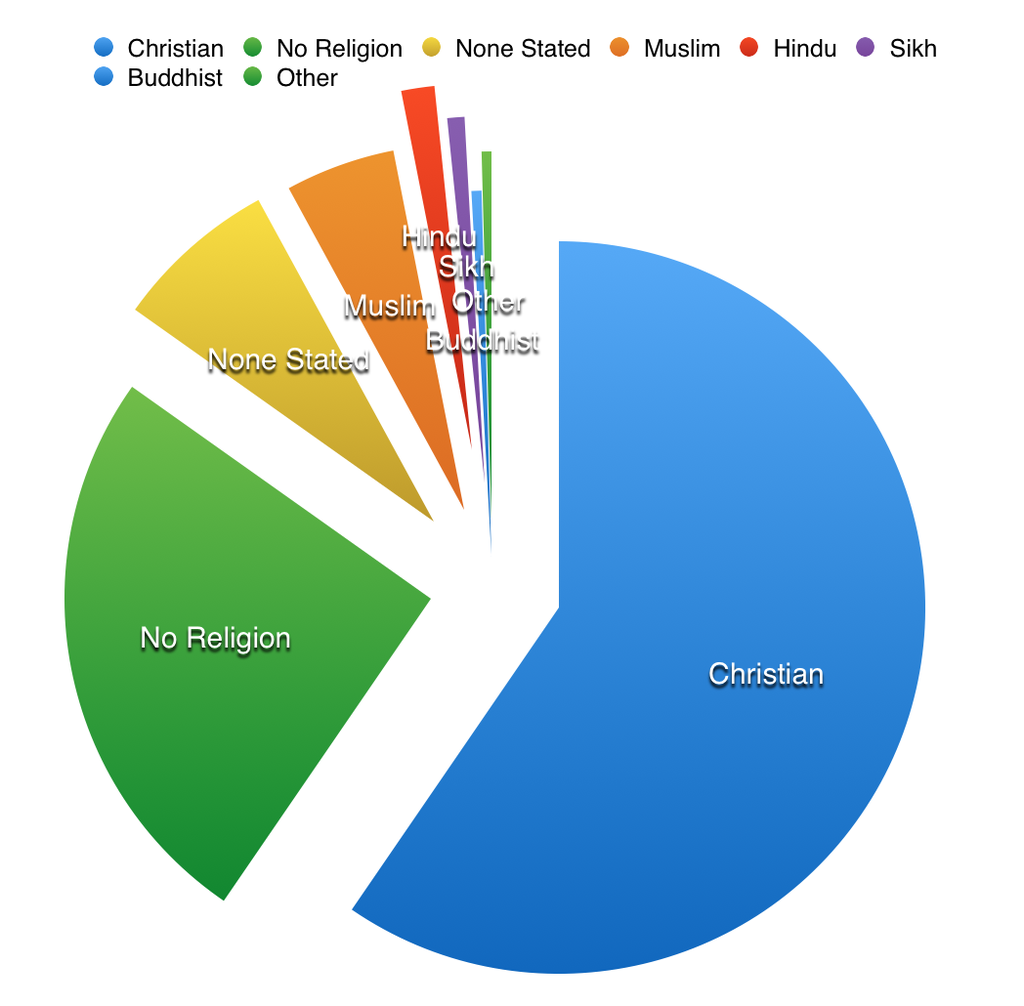 A 'faithful' view of women
Why might people of faith around the world care about justice and equality for women and, in particular in relation to development and justice? 
Two immediate answers spring to mind: first, half of these believers are women; the rest are their husbands, fathers, brothers, sons and friends.  Secondly (and regardless of the many difficulties women of faith have experienced historically within the structures of religion) because God asks us to: honouring women is a core belief for most major faith traditions.
First and foremost, faith offers a vision for women.
For example, Christianity has always placed women in the forefront of faith.  The bible characterises women as strong, honest, perceptive and deserving of great honour.  Mary the mother of Jesus Christ is the central female of the Christian tradition and she is highly empowered in the Gospel texts.  Biblically speaking, Christian women share equally with men in the calling by God to 'run the world' (as Beyonce might say). 
The Quran regards men and women as equals in the sight of God and for more than 14 centuries Islam has granted women, as it does men, fundamental rights to life, property, and opinion.
In traditional Judaism, the rights of women were greater than they were in the rest of Western civilisation until the 20th century.  According to Tracey R Rich of Judaism101,  Jewish women had the right to buy, sell, and own property, and make their own contracts, rights which women in Western countries (including America) did not have until about 100 years ago. Moreover, these religious traditions see women as having their own distinct character and vocation (life purpose) which complements but is uniquely different from men. 
From a faith perspective, women have certain characteristics and powers which they carry because they are female; they are expected to bring those gifts to the world in how they love, work and lead.  Despite this, even within many religious traditions people still grapple with what it means for women to be truly empowered.  Many particular interpretations of faith continue to attempt to restrict the rights of women in very significant ways.
It is clear that faith traditions – just like the rest of the world – have much more to do to make their professed esteem for women a lived reality.
When it comes to setting women free from every kind of exploitation and domination, the Gospel contains an ever relevant message which goes back to the attitude of Jesus Christ himself. Transcending the established norms of his own culture, Jesus treated women with openness, respect, acceptance and tenderness. In this way he honoured the dignity which women have always possessed according to God's plan and in his love. As we look to Christ at the end of this Second Millennium, it is natural to ask ourselves: how much of his message has been heard and acted upon?
– Letter of Pope John Paul II to women (From the Vatican, 29 June 1995)
This concern for women is relevant here because religious communities claim to profess a special care for the poor and the oppressed of the world. It is integral to the prophetic voice of religion to call for justice to be done 'even to the least of these'.
Religious faith is often referred to as counter-cultural because it doesn't measure the worth of a person in the same way as the secular world (which often sees worldly power, wealth and beauty as a measure of success). Looking at the world through the lens of faith requires us to defend the cause of the poor, the weak and those who are imprisoned physically, socially or economically. Given the reality of women's experience (see box 1 above) those who suffer today are most often female. It is a moral necessity then, for those with faith to respond to the cause of women.
Given these beliefs about both women and oppression; faith communities are in a great position (not least by virtue of their sheer number) to influence how we value, talk about and behave towards women worldwide. Faith communities represent 6 billion current and potential activists who can and should call for the rights of women to be recognised; together they have the power to create and sustain the kind of world where women can truly thrive.
Questions for discussion

What women do you know in own your life who live and practice their religious faith? Why do they believe their faith is important? What challenges do they face as women of faith?
Most religious traditions teach a message of peace, justice, equality and freedom; what has been your own experience of how faith relates to social justice?
What opportunities do you see for religious people to positively influence the social justice challenges we face in our world such as poverty, oppression and injustice?
How can the 80%+ people in the world who have faith help to create a fairer and more equal world for women within their own religious traditions and in the wider world?
Explore the case study examples below; what do you think are the most effective and powerful ways to act with faith and for justice?
Some Case Studies
Blessed is she is a community of women devoted to daily prayer and sisterhood.  Alongside their devotional resources, they use their online faith community and live events to educate their network of women on issues of justice. Blessed is she shares development information as well as calling women to action on a range of issues such as human trafficking. They also educate their online network about how fair trade empowers women and encourages people to buy from fair trade organisations.
Lutheran World Federation – We believe when church and society are committed to reaching just gender relationships, both flourish.  The website and its associated programmes provide examples of faith-inspired action on a number of fronts and regions – a series of 'herstories' from Africa, America, Asia and Europe; campaigns of gender-based violence; defending human rights defenders and much else.
Grey Nuns of the Sacred Heart – a group of US based, English speaking nuns engaged in action in four key areas – immigration reform, fracking, the death penalty and eco-spirituality.  The website includes a rationale for work in each of these areas, links to broader networks and organisations similarly focused and suggestions for prayer and liturgy etc.
Powerful Women Religious Leaders around the World – to celebrate International Women's Day in 2014, the Huffington Post put together a gallery of religious women leaders from a huge variety of faiths worldwide. The profiles often have onward links. See, for example, the site for World Faiths Development Dialogue and the site of Women Living Under Muslim Laws.
Peace building: Women of faith as agents of transformation
'Keeping the Faith in Sustainable Peace' was a high-level meeting that took place on September 20th, 2018 on the role of women of faith in peace building.  It brought women working towards peace and reconciliation in conflict situations together with UN diplomats and national policymakers to show how women of faith have helped resolve conflict and build peace in societies around the world, and how the international community can honour and support their efforts.
In conflicts where religion is manipulated for violence, women are often portrayed solely as victims. Far less attention is paid to the immense positive contributions of leaders of religious communities, which include many women, to conflict resolution and mitigation. Women of faith have been instrumental in building and rebuilding interfaith cooperation in their communities in many countries around the world, including in Bosnia, the Central African Republic, Colombia, and Syria.
Excerpt of Dr. Sadhvi Bhagawati Saraswati at the Women of Faith as Agents of Transformation event
Secretary-General of Global Interfaith WASH Alliance and President of Divine Shakti Foundation, sharing some insights about the important role women of faith play in peace building and on the importance of expanding their vision beyond peacebuilding to also providing sustainable life, including access to clean water, air, soil for children of all colours, creeds, races, and religions.
Event concept note on 'women of faith as agents of transformation'
Keeping the Faith in Sustainable Peace – Women of faith take the stage at the United Nations General Assembly
18 September, 2018, New York: The role of women of faith in sustaining peace was the subject of a side event held on 20 September at the United Nations in New York on the margins of the 73rd General Assembly.  The side event is organized by the International Dialogue Centre (KAICIID), the United Nations Interagency Task Force on Religion and the European Union. 
The event brought together women of faith who are working towards peace and reconciliation in conflict situations in various world regions, UN diplomats and national policymakers to reference and acknowledge the efforts of women of faith in ending conflicts and building peace.
Religious leaders can be critical agents of change in a global context where 80 percent of the world's population has a religious affiliation.  In this context, women of faith play an essential role in the various aspects and areas of sustaining peace and their stories are slowly emerging.  However, their voices tend to be less heard, and their work and achievements less visible than those of other actors.
This event aimed to provide a platform for women from different faiths and denominations to showcase on the global policy table their contributions and aspirations as agents of peace and social transformation.  It also provides an opportunity to policymakers to engage and exchange views on how to developed synergies with women of faith on issues of common concern, including the implementation of the Sustainable Development Goals.
About the UN Interagency Task Force on Religion: The UN Task Force annually convenes faith-based partners for a series of policy dialogues on diverse human rights, development and peace and security-related issues.
About The International Dialogue Centre (KAICIID): KAICIID is an intergovernmental organization that promotes dialogue to build peace in conflict areas, by enhancing understanding and cooperation between people of different cultures and followers of different religions.
About the series
This 4-part series explores three key issues – poverty and wealth, climate change and women's rights – from an explicit faith perspective, and introduces a range of activities, links and resources for facilitating learning exercises and workshops.
Take a look at other parts in the series: part 1. Faith, justice and development; part 2. Is wealth the problem?; part 3. The Earth is our home
Suzanne Bunniss (PhD) is a social science researcher and charity director of FireCloud, based in Clydebank, Scotland.
John Dornan has been a development education activist for over four decades and recently retired as project manager of global education at the Conforti Institute based in Coatbridge, Scotland.
Note: this series has been developed with additional reporting, commentary and review by Colm Regan of developmenteducation.ie and Stephen Farley of Trócaire.