Until 2017, Just Forests was one of the most active NGOs in Ireland, highlighting the value and importance of forests, forest products and 'forest ethics' in our lives and in the history and future of our planet.
The Wood of Life is a hands-on, interactive exhibition for schools, libraries and other education facilities. The exhibition also makes direct links to many of the Sustainable Development Goals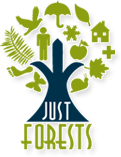 Who we are
Motivated by the discovery of a large piece of Mahogany in a local dump and the fact that such a valuable resource could be simply discarded, NGO Just Forests was founded by Tom Roche. Just Forests is committed to responsible management and conservation of the world's forests as a means of poverty alleviation and use the ideas and approaches of development education to highlight the following:
Justice for the world's forests and for those that rely on them for their livelihood
Stewardship as an act of responsible forest management
A global citizenship where we engage in responsible consumption and recognition of the interdependence of all the world's people and nature.

The Wood of Life Exhibition was created, which then toured Ireland for two decades and became a symbol of the campaign to protect forests and forest products and the people who depend on them.
How we did it
The Wood of Life Exhibition is a traveling, hands-on, interactive exhibition on the social, economic and environmental importance of the world's forests through development education and education for sustainable development.
Just Forest's Wood of Life Exhibition will help you understand that forests provide shelter to people and habitat to biodiversity; are a source of food, medicine and clean water; and play a vital role in maintaining a stable global climate and environment. All of these elements taken together reinforce the message that forests are vital to the survival and well-being of people everywhere, all 7 billion of us.
Everyone in the world depends on nature and ecosystem services to provide the conditions for a decent, healthy, and secure life. Just Forests use the state of the world's forests as a tool to establish links between 'development' and poverty.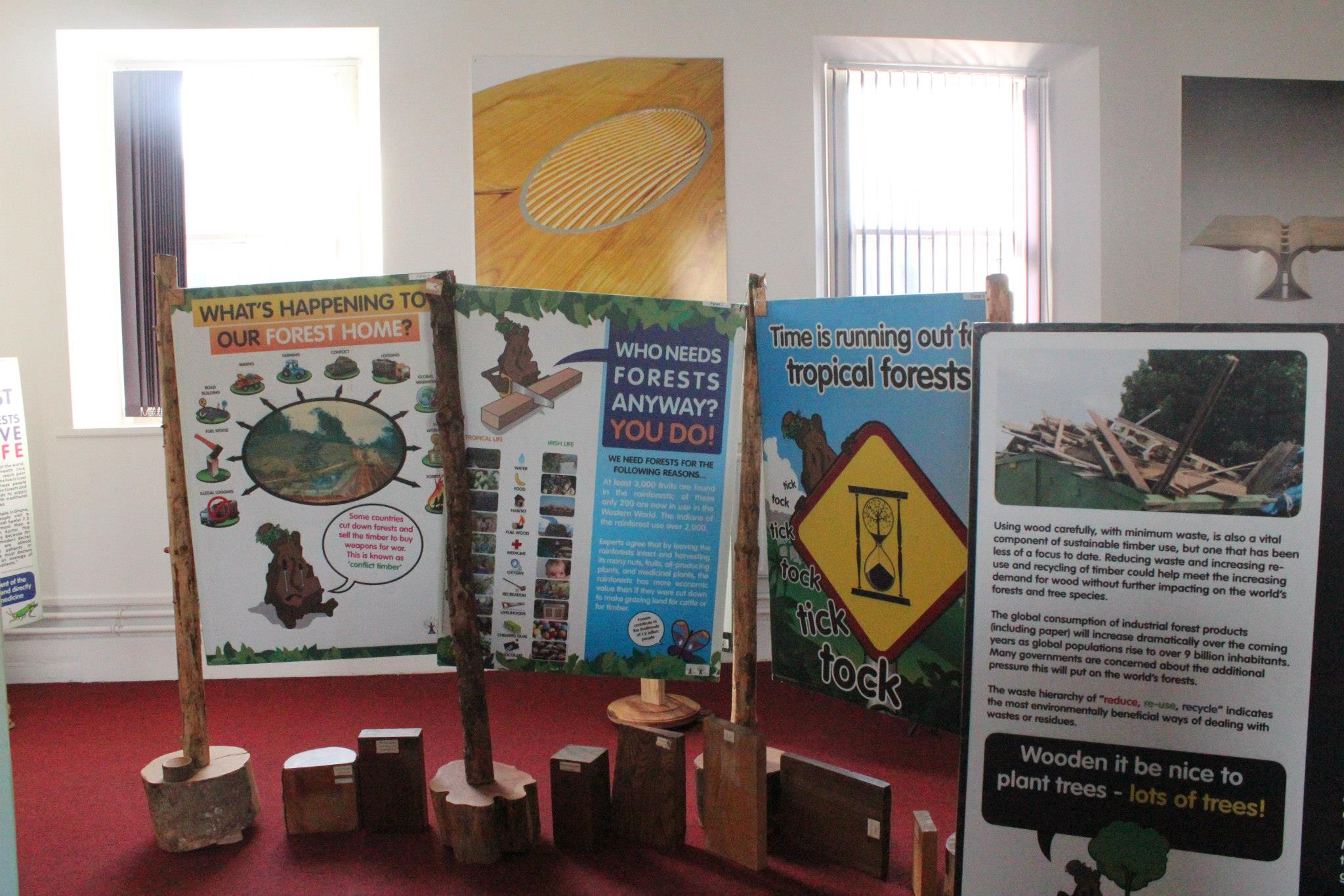 Comprising a series of panels, each with its own theme, data, ideas and arguments, the Wood of Life emphasised the 'value' of forests and timber medicinally, environmentally, economically, culturally and aesthetically. 
Over the period of its 'active touring', the exhibition was visited by 200,000+ pupils and adults in 50+ venues around Ireland.  It began its road tour in Tullamore Public Library in March 1990. At each venue, teachers, students and general visitors were encouraged through the use of support materials, questions and a range of activities to interact with the exhibition and to consider their own use and attitudes to both forests and to timber and its many products.
As a result of visiting the Wood of Life, Just Forests encourages schools and students to undertake an audit of wood products in their classroom, extending it then to the whole school environment and finally to the home. 
In this way, young students, their teachers and families would immediately grasp the extent to which we depend on wood in everyday life. In particular, Just Forests seeks to encourage visitors to make use of timber resources from sustainably managed forests (through the Use of the Forests Stewardship Council – FSC – certification scheme).
Why Did We Do It
At Just Forests, we endeavour to change the economic mindset that fails to value natural ecosystems and ultimately results in nature being wasted or consumed by inefficient development.  We encourage people to think of ecosystems as assets and how environmental sustainability can become part of the overall fabric of society.
For us, standing forests should be more valuable than cleared forest land. Stewardship of forests natural resources and services by practicing sustainable forestry should be more profitable than clear-cutting a rainforest. Preserving wetlands, grasslands and coral reefs should provide far more long-term benefits to society than parking lots, corn ethanol or new coastal shipping lanes for coal or iron ore carriers.
Conservation should be embedded in business activity – leading to an economic model that supports growth in a way that also is in harmony with nature. Such a paradigm shift of incentive – away from degrading natural ecosystems to recognising the value in maintaining them by putting people at the heart of conservation.
Did We Succeed
'The work of Just Forests provides teachers and teacher educators with practical suggestions for the integration of a global perspective in the primary curriculum. The [Wood of Life] exhibition is unique and 'hands-on' and delivers a valuable learning experience which was appreciated by all of our students. It highlights, in a very meaningful way, the beauty of wood and the role and significance of timber and forests in the overall debate on sustainable human development.

In this, the UN Decade of Education for Sustainable Development 2005-2014, the focus on education for sustainable development by organisations such as Just Forests provide invaluable support for student teachers who are trying to teach topics pertaining to sustainable development in the classroom.
Dr. Anne Dolan, Mary Immaculate College, Limerick.
'We had been discussing how to link content and language for English language learners and the importance of visuals when supporting language use. The Wood of Life was an opportunity for the students to see how the teacher could use a topic to make cross curricular links while also developing language and literacy skills. The large scale posters were a good example of how to use visual graphics to develop higher order thinking skills, for example: de-forestation (cause and effect), species of trees/timber (compare and contrast).'
Therese McPhillips, B Ed 3 Elective, 'Literacy for English Language Learners', St. Patrick's College, Drumcondra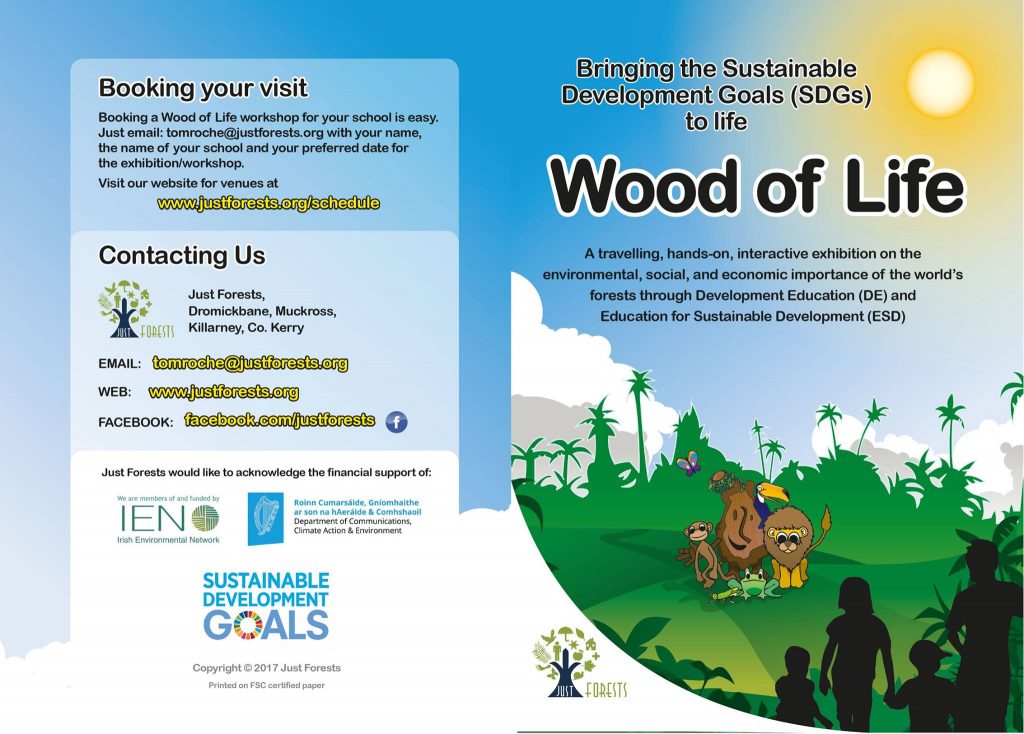 'Student teachers and the primary school children were fascinated by the display pieces within this [Wood of Life] exhibition and by the stories that Tom Roche was able to give as background to the display. The multiplicity of resources which Just Forests had on display allowed for some very practical hands-on work. The children from the primary school classes for instance set about sorting pieces of timber according to characteristics which they had noticed, an activity which they thoroughly enjoyed.'
Dr. Geraldine O'Connor, Church of Ireland College of Education, Rathmines,Dublin.
For more, visit the exhibition information page on Just Forests.