This photostory was produced by Tendayi and Cynthia Kureya; PANOS; SAFAIDS Zimbabwe and photography by Tendayi Kureya
My name is Dorothy Nkoma. I live in Chinhoyi in Zimbabwe. I have been living with HIV for at least fourteen years. I took my HIV test in 1996 after my husband tested positive in 1995. I thank the Batsirai Group, an HIV/AIDS service organization that receives funding from Irish Aid for giving me back my life. The Batsirai Group is based in Chinhoyi which is about 100km from Harare the capital city of Zimbabwe.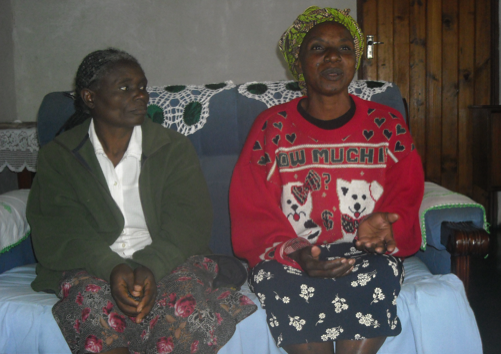 Impacts of HIV on family and community
I was shattered when I realised I was HIV positive. This was exacerbated by the rejection by my relatives when they heard the news. After being sick for a while I went to join my parents in Malawi. I was in denial. I thought I had been bewitched. I hoped to get potent traditional remedies in Malawi. I did indeed receive loads of herbs and concoctions, but to no avail, and my condition worsened.
My relatives' attitude deteriorated further upon my arrival. The trauma that this caused me was so unbearable that I decided to kill myself. After breast feeding my baby girl, who was six months old, I tried to hang myself twice but the baby interrupted me on both occasions. I then abandoned the idea and decided to soldier on. I concluded that God did not want me to die that way.
The response
It was then that I came across the Batsirai Group, where I received counselling on handling stigma and accepting my condition, as HIV positive. Batsirai paid for all the tests which are necessary for anti- retroviral therapy (ART). I was then introduced to the treatment that I was so desperately in need of.
Impact of Response
My health has improved greatly after starting my ARV therapy. The strained relationship with my relatives has improved too. I then disclosed my status to my whole community. Today I am a symbol of hope for People Living with HIV (PLWHIV) in my community. I now know that HIV is manageable and that I can live with it for many years. I have learnt to live happily with my condition.
From the time I revealed my status to my church members I have helped lots of people to manage issues related to living with HIV. I think that the degree of stigma has dropped from the time I was diagnosed. Back then HIV was misunderstood. It simply meant death. People now understand that HIV is manageable and as a result stigma is now reduced.
I hope my story will inspire a lot of people who might have given up on life after testing HIV positive. My daughter is now fifteen years old. She is happy and healthy too. Imagine what would have become of her if I had taken my life.