Resource Title
A Brighter Future: A Development Education Resource for Senior Primary
Summary
This resource explores the theme of 'A Brighter Future' in the context of the Global Goals and of children's lives in Zimbabwe and Ireland.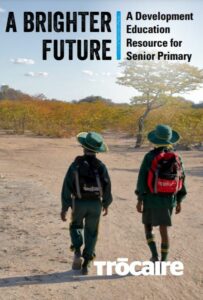 Resource Details
Author:

Laura Rio Fernandez and Niall Quillinan

Publisher:

Trócaire

Year:

2022

Page Count:

28
Description
A Brighter Future focuses on Goal 2: Zero Hunger and the concepts of healthy food, food security and the effects of climate change and Covid-19 on food production.
This resource highlights the story of Thandekile, a thirty-one-year-old mother who lives with her two children, Nomatter (11) and Forward (8), in the Matabeleland South Province of Zimbabwe. Thandekile and her family are facing hunger because of climate change in her community.
Heavy rainfalls and droughts mean that crops are failing, which affects the family's ability to feed
themselves. Covid-19 has compounded the effects of climate change and reduced the ways in which
people in Zimbabwe can earn a living.
Throughout this resource, educators and students will learn about:
The Sustainable Development Goals (SDGs)
Zimbabwe and the lives of Thandekile and her family
The importance of food and good nutrition
The effects of climate change on food production
Growing food in the classroom
Brighter Futures contains:
Detailed curriculum links guides throughout linking subjects, strands and strand units (subject links are SESE Geography; English; Mathematics; SPHE; Visual Arts)
Socially distancing activities based on a Covid-19 learning context for participants
8 worksheets, activities, digital games and detailed teacher support advice and instruction
8 lesson plans focusing on food security issues, the impacts of climate change, the food pyramid and case study materials based on the lives of two children from Zimbabwe.
This resource is part of the 'A Brighter Future' education resources by Trócaire.
Available from:
Download the resource project materials:
For more: