About Me About Us: Celebrating Diversity in Co. Monaghan Schools
Online interactive resource focused on encouraging students to exploring identity and diversity in the context of self, others and their community
Publisher: Monaghan Education Centre
Country of Origin: Ireland
Keywords: Identity, diversity, ourselves, religion, stereotyping, identity, ethnicity, race, racism, equality, human rights, symbols, Monaghan, interculturalism, culture
Target Audience: 5-8 years 8-12 years Junior Primary Senior Primary
Curriculum Subjects: Art, Craft and Design Drama English Geography History Music Physical Education Religious Education Social Environmental and Scientific Education Social Personal and Health Education
Available Formats: Activity Pack Website Whiteboard
Available from:
Download About Me About Us PDF (32MB)
Email Monaghan Education Centre to request a copy info@metc.ie and accompanying CD materials
---
Description
"It is child centred, interactive and visually appealing while also being teacher friendly and very simple to use. This teaching resource is a significant educational development. In our increasingly diverse Monaghan society, it will assist the holistic development of the children in our care. Significantly, it will focus on the issues of racism, sectarianism and bullying. It will provide the children with a basic knowledge of countries such as Latvia, Poland, Lithuania, Nigeria, and the Philippines.

More importantly, it will develop the children's understanding and appreciation of where their friends and classmates have lived before coming to Ireland. They will learn that diversity is an issue for everyone, not just our friends from other countries. Our children will grow to recognise the normality of diversity in theireveryday lives and in turn, they will celebrate, respect and learn from the many different backgrounds, customs and traditions that they share with their friends on a daily basis."
The resource book and accompanying fully interactive website were designed by primary school teachers from Monaghan schools for their colleagues in Monaghan and further afield. As part of the Embedding Tolerance in our Young People project, the teachers identified a need for resources aimed specifically at acknowledging and promoting understanding of the diverse communities within our county.
Sample screenshot of accompanying website: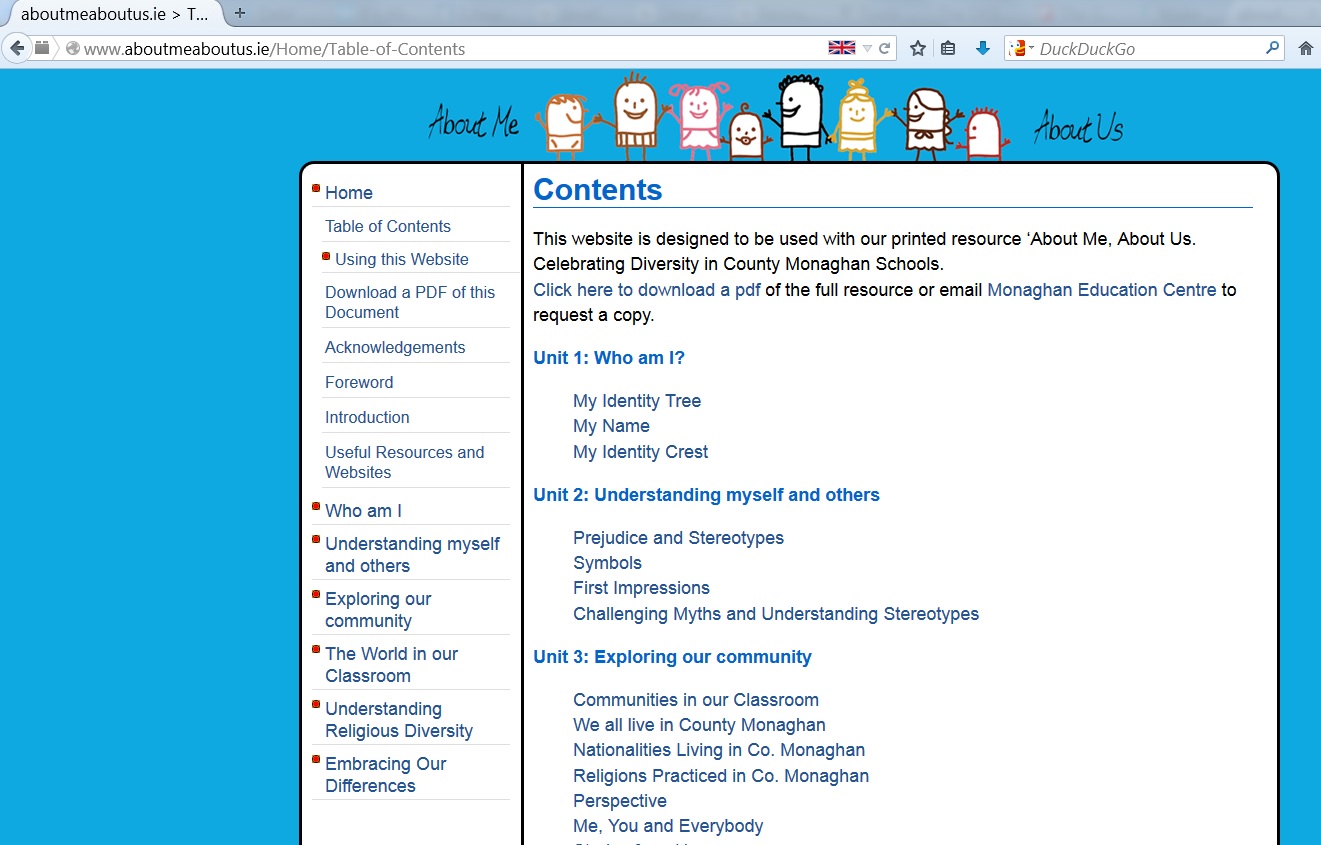 The resource is divided into 6 units exploring Who am I? Understanding Myself and Others, Exploring Our Community, The World in Our Classroom, Religious Diversity and Embracing Our Differences and Working Together
Detailed contents:

Unit 1: Who am I?
My Identity Tree
My Name
My Identity Crest
Unit 2: Understanding myself and others
Prejudice and Stereotypes
Symbols
First Impressions
Challenging Myths and Understanding Stereotypes
Unit 3: Exploring our community
Communities in our Classroom
We all live in County Monaghan
Perspective
Me, You and Everybody
Stories from Home
Unit 4: The world in our classroom
Learning about Lithuania
Learning about Latvia
Learning about Poland
Learning about the Philippines
Learning about Nigeria
Learning about other countries
Unit 5: Understanding religious diversity
Christianity
Learning about life as a Catholic
Learning about life as a Protestant; Presbyterian Church,
Church of Ireland, Methodist Church
Learning about life as an Orthodox Christian
Islam
Learning about life as a Muslim
Hinduism
Learning about life as a Hindu
Judaism
Learning about life as a Jew
Activities on World Religions
Unit 6: Embracing our differences and working together
This is where we all belong
Diverse dilemmas
Making our classroom a welcoming place
Who are we?