Resource Title
Adventures of Riley: Polar Bear Puzzle
Summary
'Welcome to the polar bear capital of the world!'
Young Riley visits his uncle Max to experience yet another exciting adventure across the globe. In the Polar Bear Puzzle he visits Canada to find out why polar bears are becoming endangered.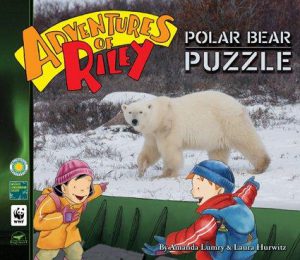 Description
The Adventures of Riley series of books excellently combines fiction and non-fiction for young people that introduce and explore a variety of current issues such as climate change, endangered animals, environmental issues, etc.  Riley regularly receives invitations from his uncle Max (a scientist that studies animals, their habitats, and the environmental issues that impact them), his aunt Martha and cousin Alice, to visit exciting locations across the world and learn about current issues affecting animals.
The books combine scientific facts and background information alongside the story of Riley's specific adventure. Each Riley Adventure book contains fascinating fact boxes, a glossary of terms, additional information at the back of the book, and a mix of illustrations with "real-life" photography.
Further Reading
The Adventures of Riley website https://www.adventuresofriley.com/ is excellent for the value-added 'fun stuff' such as music, photo's, videos, fun facts and games, a family blog, etc.
A full listing of the books from the series can be found on the website.
Other Info
A portion of the proceeds of the sale of the books from the series supports the educational mission of the Smithsonian Institution; the Wildlife Conservation Society and the World Wildlife Fund.
The books are printed on paper extracted from trees from certified forests that 'ensure the protection of the people and wildlife dependent upon them.'