Resource Title
Africa Regions Series – Central Africa, East Africa, North Africa and South Africa
Summary
A set of on-line downloadable educational resources and maps that explore the African continent based on region.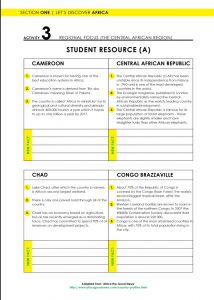 Resource Details
Author:

Africa Centre

Publisher:

Africa Centre

Country of Publication:

Ireland

Year:

2012

Page Count:

20
Description
Regional general knowledge resources based on all of the countries in Africa, grouped into Central Africa, East Africa, North Africa and South Africa. Over 50 countries covered across the series.
teacher sheets
blank regional maps for students to fill in
informational
fact-based activity sheets, general knowledge
This resource is split into 4 sections, each is a 1-page downloadable and printable worksheet:
Central Africa Region – focuses on 8 countries in this region (Cameroon, Central African Republic, Chad, Democratic Republic of Congo, Equatorial Guinea, Gabon, Sao Tome and Principe) through 2 student resource sheets that look at country facts and encourage students to search out other key facts about each country, a map and very brief background on the region.
East Africa Region – the largest section in the resource that explore 16 countries in this region (Burundi, Comoros, Djibouti, Ethiopia, Kenya, Mauritius, Madagascar, Mayotte, Reunion, Rwanda, Southern Sudan, Sudan, Somalia, Tanzania and Uganda). It includes 5 separate student worksheets, a teacher resource with very basic information on wildlife, geography and language, and a map of the region.
North Africa Region – focuses on 6 countries in North Africa (Algeria, Egypt, Libya, Morocco, Tunisia and Western Sahara), with a teacher resource summarising its history, language and religion; a regional map and 2 student worksheets.
South Africa Region – focuses on 10 countries in the Southern Africa region (Angola, Botswana, Lesotho, Malawi, Mozambique, Namibia, South Africa, Swaziland, Zambia and Zimbabwe). The teacher resource looks at basic information on the economy, flora and fauna of the region; there are 3 student worksheets and one regional map.
Sample map page: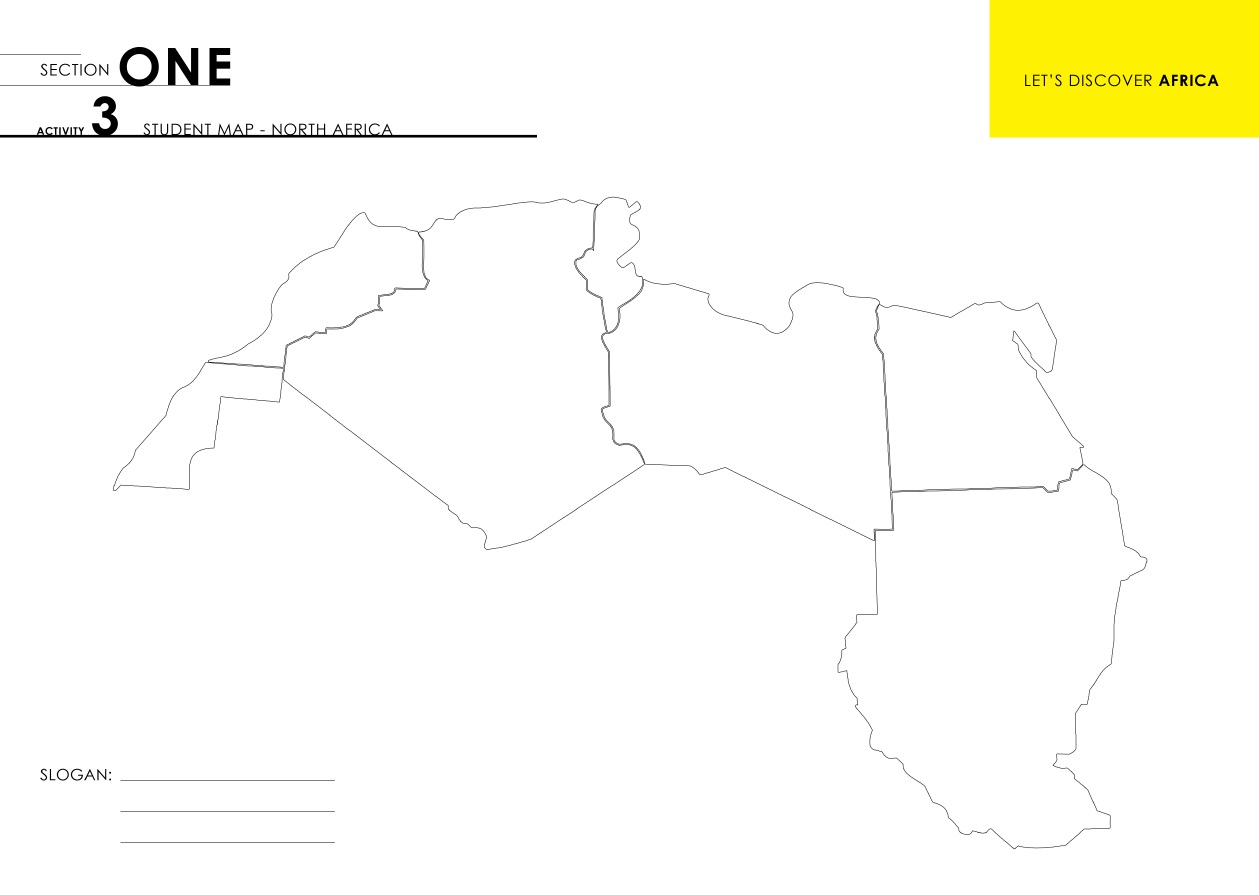 Sample student page: