Resource Title
Are we changing the world? Development Education, Activism and Social Change – A workshop report
Summary
This is a report on a development education, capacity-building workshop that was organised by the Centre for Global Education to explore the relationship between development education, activism and social change. The workshop, entitled: Are we changing the world: Development Education, Activism and Social Change, was held on the 23rd September 2015 at the Carmelite Centre, Dublin.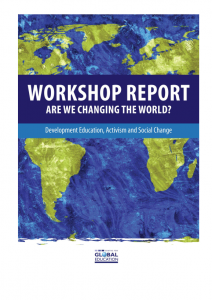 Description
The aim of the workshop was to support reflection and debate on how development educators can enhance their engagement with the public on international development issues. This resource presents the findings form this workshop.  It includes a presentation of Journeys to Citizen Engagement based on findings (external link) from research on citizen engagement approaches to DE in Portugal, Cyprus and Greece and how this links with Ireland. The focal activity in the workshop was to explore, discuss and debate: How do we Enhance Citizen Engagement in Ireland, and what are the essential elements to achieving effective citizen engagement?
Case Studies of Good Practice in Ireland were presented by: Debt and Development Coalition Ireland; Creativity and Change and Lourdes Youth and Community. Includes references for further reading.