Resource Title
Artivism and Marine Conservation Lesson Plan
Summary
This lesson pack for children aged 5-11 includes a full 5 step lesson plan about activism through art in the context of preserving our oceans, seas, rivers and lakes. There are numerous activities of varying lengths for children to learn, evaluate and create; a PowerPoint presentation, worksheets, a marine litter fact file and clear learning objectives. While this has been linked to the national curriculum in England, Scotland and Wales, it is easily adaptable to the Irish curriculum. This plan can also be divided over multiple days as required.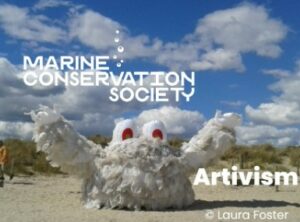 Resource Details
Formats:

Activity Pack, Online lesson plans, Lesson plan

Topics:

Activism, Activities, Climate Change, Earth Sciences, Environment, Geography, Global warming, Pollution, Sustainable Development Goals, Waste, Water, Wildlife
Description
The lesson plan to promote environmental issues through art is divided into 5 key steps:
Step 1 – Background

Step 2 – Set the Scene: This can be done as a class group, in smaller groups or pairs. Explain what artivism is and see if they have ever seen art made from litter before.
Step 3 – Activities: This step involves 3 activities: What is Artivism?, Evaluating Artivism and Creating Artivism.

Step 4 – Extend: Students could create information posters to go alongside their artwork, showing what they have learned, how they created it and what they hope it will achieve.
Step 5 – Reflect : Discuss the students' hopes for the Artivism piece as a class, by asking; Why do you want it to inspire people? How do you want it to inspire people?