Resource Title
Bananas and (cocoa) Beans: a basketful of fair trade activities
Summary
This is a 28 page cross-curricular teacher's book focusing on fair trade. The book introduces pupils to the idea of fair trade and farmers getting a fair price for their products.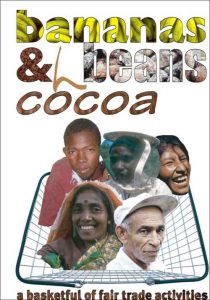 Description
Bananas and (cocoa) Beans investigates our links with people across the globe through trade in food and drink products. It is divided into four parts, each of which can be used on their own, or in sequence.
Part one begins by raising awareness of our global links and goes on to look at the negative impact these links can have. Fair trade is introduced (in part 2 and 3) as a positive alternative and ways in which we can all take action for positive change follow from this in part 4. Each part includes teacher information, pupil activities and materials for photocopying.
It has been designed for 'minimum teacher preparation and maximum pupil participation'.
Suggested use: Introduction to the issue of fair trade