Resource Title
Chembakolli: Life and change in an Indian village
Summary
This popular photo-pack uses photographs, comic strips and activities to examine life in Chembakolli, a rural community in southern India.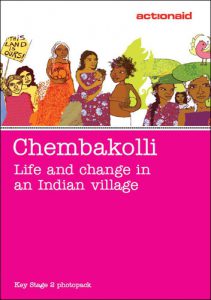 Resource Details
Author:

Actionaid

Year:

2012

ISBN:

9781905694075

Page Count:

30
Description
This photopack, now in its third edition, introduces the village of Chembakolli using images, engaging activities and inspirational stories.
It contains 30 A4 double sided photocards, an illustrated timeline poster of 'The Chembakolli Story', a CD containing lessons, activities, activity sheets, illustrations, photographs and interviews, all accompanied by a teacher's guide outlining how to use the pack effectively.
The pack documents the villager's fight against the erosion of their tribal land rights and shows how they have worked together to achieve positive change.
Suggested Use: Stimulus, introductory, action projects
Further Reading:
Teachers blogging about their experience on a bi-weekly basis as they volunteered for nine months to teach a range of subjects to the local pupils aged from five to fourteen at Vidyodaya School in Gudalur, near the village of Chembakolli | Chembakolli Live blog on the ActionAid website
ActionAid's schools website
The Guardian Teachernetwork report and teacher resources on the Chembakolli projects. Includes a teacher-created powerpoint resource on Fairtrade and Chembakolli (Ages 7-11, Geography, Citizenship)
Available from:
The pack is available to buy for £35 on the ActionAid website.
There are also an extensive range of free downloads in relation to Chembakolli available on topics such as housing and homes; school; water; transport; just change – making trade fair; landscape – forest; and education in Gudalur.