Resource Title
Climate Action Teacher Resource
Summary
The Climate Action Teacher Resource, produced by the Green-Schools team, has been devised to equip Geography, C.S.P.E., Science, English (and more!) teachers with the tools and guidance to explore the topic of climate change through their curriculum.
Climate Action Teacher Resource has been devised with the input of Geography and Science teachers and, in addition to lesson plans; presentations; surveys and data, is accompanied by a 'Cards Against Climate Change' game and specifically commissioned climate cartoons to provoke discussion amongst students.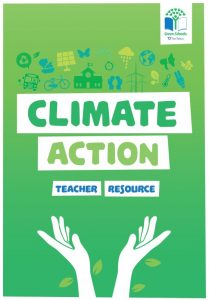 Description
Avoiding dangerous levels of climate change is still possible, but will require massive effort and coordination from governments, businesses, citizens and scientists in the coming years. Climate change is happening, so let's try to understand it and do something about it now. You, as teachers, are perfectly positioned in shaping the young minds and motivations of the current generation of students, so we, at Green-Schools would like to share this resource with you with the aim of motivating students to learn about climate change and take climate action.
This resource pack is divided into 10 short chapters (or lessons) with:
worksheets, teacher guides, games, climate cartoons, background info and reflection exercises as part of developing a climate action plan or climate action day
themes covering: climate change 101; climate dictionary; climate conversations; climate data; climate research; citizens assembly
innovative ideas for considering in climate action planning (and global citizenship education), such as #MeatlessMondays, #PlasticFreeSchool, examining Met Éireann's historical weather data, and taking a #ClimatePledge
links to the curriculum with key skills of the Junior Cycle and taking into account the Framework for Junior Cycle; subjects with learning outcomes include: Geography, Science, CSPE and English
incorporates several Statements of Learning (SoL) and owing to the nature of climate change has a particularly strong affinity to SoL 7, 8, 9, 10, 16, 19 and 24
Sample page (page 3) with info on how to use this resource: