Resource Title
Climate Revolution: One World Week development education and global citizenship education resource pack
Summary
Young people across the planet have become instrumental and a leading voice in taking action against Climate Change and for Climate Justice.
This resource explores the issue of Climate Change and the Sustainable Development Goals.
It is designed for Global Educators, Youth Workers, Development Education practitioners, trainers, climate activists, changemakers of all shapes and sizes but in particular those working with the current generation of young people.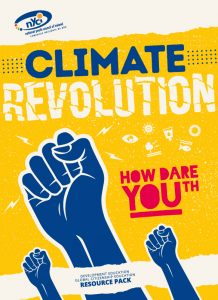 Description
Organised into 14 activities that cover a wide range of learning levels on topics related to climate change, climate justice and reflectings on taking collective action).
Produced as part of the national One World Week youth work programme and during an era of youth-led climate strikes, , Climate Revolution contains many new and innovative activities that can be adapted and refined. For example:
What would Ireland look like in 2100, and where would the capital city be located ? (hint: see Braystones, p.24)
How does the framing of information influence how decisions are made, and what are the differences between confirmation bias, negativity bias, the Dunning Kruger Effect and the Ikea Effect?  (see the behavioural science pages on p.26-27)
Busting climate myths, exploring 'fast fashion' and how to begin 'climate conversations'
Contents List
Introduction
One World Week
Climate Change and the SDGs
What are the Government/Scientists saying?
Climate Jargon Buster
Activity 1 – Where Do We Stand? Climate Action Spectrum
Activity 2 – Ireland 2100 – The Flood
Activity 3 – The Helps and Hurts of Climate Change Behavioural Science – Cognitive Biases
Activity 4 – Who has the Power?
Activity 5 – My World, My Planet, My Climate
Activity 6 – STEAM – Climate Outburst. The Spectrum of Persuadability
Activity 7 – Climate Conversations Perspective Tools
Activity 8 – Spaceship Earth and Climate Justice!
Activity 9 – Climate Avoidance Bingo. Fake News and Fact Checker
Activity 10 – The Miracle Question. Art of Change
Activity 11– Who Deserves a Just Transition
Activity 12 – Releasing the Arrow
Activity 13 – The Impact of Fast Fashion on Climate Change
Activity 14 – Taking Action – Climate
Action in Ireland