Resource Title
Confirming Hope
Summary
Confirming Hope introduces Confirmation students and teachers to the UN's Sustainable Development Goals in this fun, relevant, multimedia presentation through a Christian faith-based approach.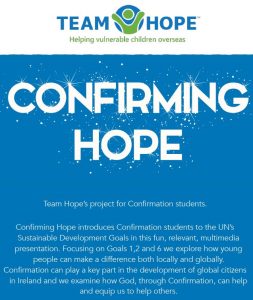 Description
"Explores how Confirmation can play a key part in the development of global citizens in Ireland and examines how God, through Confirmation, can help and equip us to help to be more active citizens"
The teaching resource Confirming Hope:
Is split into 4 sessions that each includes: an SDG, Team Hope's response, case studies of inspirational young people and links to confirmation.
Focuses on three SDGs: Goal 1 No Poverty, Goal 2 Zero Hunger and Goal 6 Clean Water and Sanitation,
Explores how young people can make a difference both locally and globally
Suggests a series of actions that young people can take.