Resource Title
Development Education Evaluation Toolkit
Summary
Development Education Evaluation Toolkit for the Adult and Community Education Sector is a toolkit that helps development education providers and practitioners measure the outcomes and impact of their activities. It suggests a range of different approaches that can be tailored to individual requirements, courses and training schemes.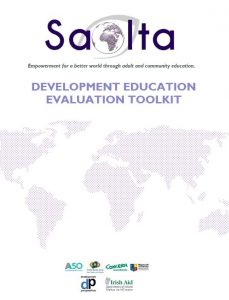 Description
The Toolkit has three sections.
Section 1 provides a short explanation of key concepts in the evaluation process and a guide to developing an evaluation framework and logic model.
Section 2 contains a range of evaluation and data tools that can be used to evaluate a range of activities, including workshops, public events, short courses and accredited courses.
Section 3 contains information on data management along with additional resources and texts.
The toolkit was developed as part of the Saolta programme led by Development Perspectives, AONTAS, Concern Worldwide, Irish Rural Link and theAdult and Community Education Dept of Maynooth University, which explores a variety of global issues with stakeholders from the Adult and Community Education sector along with encouraging action across Irish society.
Available from:
Access the resources via the Saolta programme of Development Perspectives.