Resource Title
Dimensions of Development
Summary
This 9-page resource offers an introduction to development education for Primary teachers.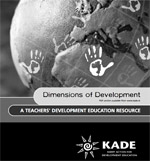 Description
A 9-page resource booklet containing teachers' notes, activities for junior infants to sixth class, resources pages and organisation contact lists introducing teachers to development and intercultural education.
Suggested activities for using materials in classrooms with curriculum links guidance.
The booklet combines activities from a number of sources and aims to provide teachers with useful materials on Development and Intercultural Education.