Resource Title
Dóchas Guide to Ethical Communications
Summary
The Dóchas Guide to Ethical Communications is a support to organisations seeking to implement best practice in ethical communications. It outlines key considerations and good practice for those working with imagery and messages in development and humanitarian settings.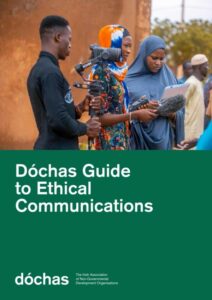 Description
The Dóchas Guide to Ethical Communications is a resource for international humanitarian and development non-governmental organisations (NGOs) when designing and implementing their communications.
The Guide includes helpful prompts such as tips, 'reality check' boxes and checklists, which can be readily adapted for learning, education training sessions for organisations and learning spaces in many contexts.
It is an updated version of The Dóchas Code of Conduct on Images and Messages (2006) and The Illustrative Guide to the Dóchas Code of Conduct on Images and Messages (2014), which trainers, educators and teachers have used since 2006:
"As international NGO (INGO) staff, we understand that imagery and messages used to portray people, places and situations in the global south can have an enormous impact on perceptions and attitudes. We also recognise that we have a responsibility during and after the content creation process to do no harm to the people and communities we work with.

The guidelines ask INGOs, therefore, to critically reflect on the messages they create and the imagery they choose, and to respect the dignity, privacy and security of content contributors. They also call on organisations to explore the implications of the language and terms they use. Furthermore, it is vital that content producers are always cognisant of possible power dynamics within the creative process."
The introduction to the guidelines further states:
"Recognising the need to shift focus away from INGOs and place greater emphasis on the work of local organisations and partners in development settings, the guidelines also encourage INGOs to diversify voices and perspectives in their communications. This involves putting critical reflection from local organisations, partners and communities in the global south and all development and humanitarian settings at the centre of the story, including consideration of how content is gathered."
The guidelines are founded on three core values:
Respect for the dignity of people concerned
Belief in the equality of all people
Acceptance of the need to promote solidarity, fairness and justice.
Contents
Section 1
Introduction and values
The purpose of this Guide
Which communications are covered?
Section 2: Four commitments
Authentic representation
Contributor-led stories, locally led content development
Informed consent
Upholding standards and Doing No Harm
Section 3
Accountability and feedback