Resource Title
Engagement and Activism of Young People – How to support & develop collective actions
Summary
The Engagement and Activism of Young People training manual supports trainers and facilitators to engage with young people as active citizens, including international volunteers and migrants, to plan and run collective actions on the global justice issues they are passionate about.
The training manual was produced as a tool for empowering young people – including who have experience of migration in recent years – in European contexts.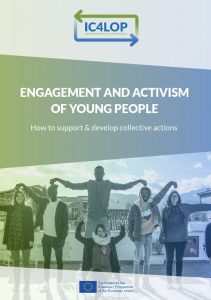 Description
"At a time when a significant number of people are migrating all around the world, including to Europe, we are deeply concerned about the "welcome crisis" they are encountering. Many of the reasons why people are hoping to start new lives in the EU are directly linked to issues of injustice and inequality."
Built around 18 active learning methods and activities, this resource:
recognises the enormous potential that young people with lived experience in other cultures have to draw on their skills, using them as a tool to critically reflect on the root causes of global inequality
will support trainers to work with young people to create collaborative responses to the issues we are facing at local, national and global levels.
identifies and enhancing the skills, knowledge, and values young people have developed through their experience in and with other cultures: this will identify ways in which the dominant narrative around migration can and should be different.
The manual has two central aims:
to invite trainers and facilitators to create space for open inquiry, and to explore the complex, interdependent and unequal world that we live in.
to support the exploration of a different way of being with each other in the world, and to encourage young people to engage with issues from a place of compassion that incorporates a critical analysis of the root causes of these problems.
Note: This training manual has been developed as part of the 'International Citizens for Local Perspectives' project. Funded by Erasmus+, the project aims to promote social inclusion and deepen young people's engagement as active citizens, by drawing on their experiences of living in other cultures.