Resource Title
Ethical Fashion Initiative (website)
Summary
The Ethical Fashion Initiative connects artisans from the developing world to the international value chain of fashion. In doing so, the Ethical Fashion Initiative harnesses fashion as a vehicle for development. Artisans can change their lives for the better by manufacturing luxury value-added ethical fashion products for top fashion designers.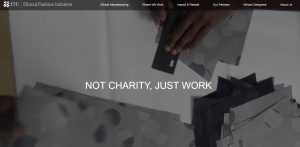 Description
This Website can be used as a resource to challenge dominant perceptions and narratives about charity and Africa. The organisations motto is 'not charity, just work'
The Website explores ethical manufacturing, Impacts and Results of the project, and presents a gallery of African designers and their work.
This video offers an explanation of the project (video length 1:30):