Resource Title
Festival Time! Series
Summary
The 5 books that make up the Festival Time Series look at important religious festivals in some of the world's major faiths and is an excellent introduction for primary school children.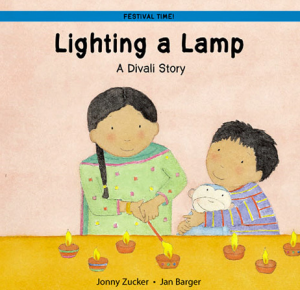 Resource Details
Author:

Jonny Zucker and Jan Barger Cohen (illustrator)

Publisher:

Frances Lincoln

Country of Publication:

Ireland

Year:

2005

ISBN:

9781845072933

Page Count:

20
Description
With very simple text and bright bold illustration these books and stories introduce the reader to each of the festivals. The authors includes both the religious aspects of this festival alongside the traditional, though non-religious practices, such as egg painting and Easter egg hunts in the Easter Story series, are included. The stories are simple and lively, the language plain and simple. The significance of the most important days of are explained and supported by the bright illustrations where the joy as well as religious significance of the festival is portrayed.
Closing the book is a double page spread with detailed historical and cultural information that parents and teachers can use to provide children with additional information about the festivals. The festivals covered in the 5 books series are:
Lighting a Lamp: A Divali Story
Sweet Dates to Eat: A Ramadan and Eid Story
Four Special Questions: A Passover Story
Hope and New Life. An Easter Story
Lanterns and Firecrackers: A Chinese New Year Story
Big Ideas in this Resource
This pre-school series introduces young children to world religions and focuses on the way the festival is celebrated today.
By the telling the stories in a way that presents the rationale for each of the respective festivals as told through the activities and statements made by the children in the books the festivals can be read and understood by all children, regardless of their own religion and beliefs.
There is detailed historical and cultural information at the end for parents and teachers.
Available from:
The books can be purchased new for £4.59 each on Amazon.co.uk or second hand for even less (from £1.41 – £3.05)