Resource Title
First Steps to Rights
Summary
This 80 page teaching pack is designed to introduce young children to the basic rights of all children. It features activities around themes including families, food and water and includes A3 colour photos with a global learning perspective.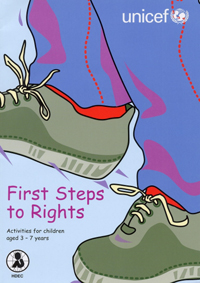 Description
This is a well constructed and user-friendly pack for incorporating global perspectives into teaching and learning. It provides an introduction for very young children to the basic rights of all children and the responsibilities that accompany them. Includes x15 A3 colour photos with a global perspective.
Each unit of work explores a specific theme with objectives, materials, a range of activities and conclusions. Extracts from the UN Convention on the Rights of the Child give validity and endorsements to many aspects of the work of teaching and support staff. The photos depict interesting everyday situations with vocabulary and information on the reverse side.
The activities can be used for whole class or group work and distinguishes for use with younger and older children.
Big Ideas in this Resource
That children of all ages can explore difficult issues relating to the ideas and practice of basic human rights and responsibilities.
Available from:
Price: £15.00
You can place an order by telephone, by email or by post to UNICEF UK.
Contact information:
Tel: 0844 801 2413
Address: UNICEF, PO Box 621, Wetherby Road, York, YO26 7NH, England
There is a flat rate charge of £4.95 post & packaging per order.
Payment on invoice: Telephone to place your order or post your order form to the address above