Resource Title
For People and Planet: Our World Irish Aid Awards Lesson Plans
Summary
The One World Irish Aid Awards were created in order to increase students understanding of the United Nations Global Goals and the work of Irish Aid, and to assist pupils to explore the links between their lives and the lives of children in developing countries.
This year the OWIAA theme 'For People and Planet' is geared towards helping primary-aged children to gain some understanding of the need to bring about good and lasting changes (sustainable development) in our world, so that the lives of people everywhere can be improved for the better, now and in the future.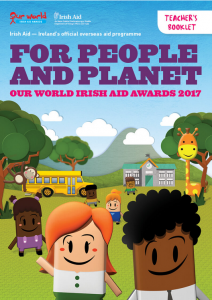 Description
The One World Irish Aid Awards provides lesson plans for both 3rd and 4th, 5th and 6th classes and includes the following:
Introduction
Reflection/Literacy activities
Unit 1: Sustainable Development and Interdependence
Unit 2: Irish Aid at work
Unit 3: Gorongosa National Park
Unit 4: OWIAA – Getting started
Gorongosa Photopack
Our Lion Family transcript
Each activity outlines learning outcomes, materials needed, step-bystep instructions, pupil worksheets and curriculum links (in the introduction).