Resource Title
Global Citizenship Education in a Time of Covid-19: A Cross-Curricular Resource for Junior Cycle
Summary
Global Citizenship Education in a Time of Covid-19 supports teachers of junior cycle subjects and short courses to use a cross-curricular approach to teach about some of the global issues and subthemes brought into sharp relief in contemporary times, specifically during the COVID-19 pandemic.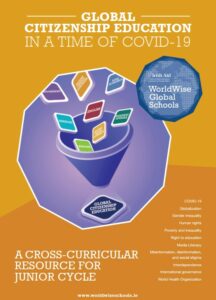 Description
The resource supports teachers to teach through a justice lens, a lens with great educational benefits, which meets the requirements as laid out in a range of junior cycle specifications, and in the Framework for Junior Cycle (2015).
The spread of COVID-19 around our world has led many people to think about the GCE related issues and subthemes covered in this resource. Issues such as:
the interdependence of people and planet and how this plays out in the relationship between globalization and the pandemic.
the great challenge of global poverty and inequality, as has been highlighted by strikingly differing levels of access to protection against and care during COVID-19.
the direct experience of so many children and young people who have had their human right to education and schooling temporarily or permanently disrupted because of school closures, together with the impact on education systems.
the importance of media literacy to counter misinformation and disinformation about COVID-19, frequently connected to online stigmatization of particular groups, often those perceived to be connected with the origin or spread of the virus.
governance in relation to national risk assessments and the capacity of international governance structures, such as the World Health Organization, to respond effectively in the context of fractured multilateral relations.
Although this is not an exhaustive list of the GCE related issues or topics that have come to the fore in contemporary times, the hope is that this resource will serve to further or spark interest, engagement and action about the way our world works amongst teachers and students alike, while simultaneously supporting achievement across a range of junior cycle subjects and short courses
It includes:
76 concise sample activities for adapting
5 sections to complete, with the following subthemes Globalisation (Globalization,
deglobalization and COVID-19); Poverty and Inequality (Protection
and care during COVID-19; Human Rights (The right to education and COVID-19); 4. Media Literacy (Misinformation, disinformation and social stigma during Covid-19); 5. International governance (Risk assessment, the World Health Organization and Covid-19).
Thematic briefings with onward links and educator notes to fully support educators in adapting materials to suit their particular group and learning contexts.
A table of short courses and subject specifications supported by using this resource.
This resource is one of a series of WorldWise Global Schools resources that support teachers to address Global Citizenship Education-related themes and concepts. The Doing Global Citizenship Education resource series enables teachers to challenge their students to look at our world, and our place in making it more just, equitable and sustainable.