Resource Title
Global Goal Getters – by kids for kids!
Summary
The Global Goal Getters magazine is Irish Aid's interactive online children's magazine featuring inspiring projects created by children all over Ireland. These projects focus on the Global Goals, the work of Irish Aid and this year's theme 'Partnerships for the Goals'.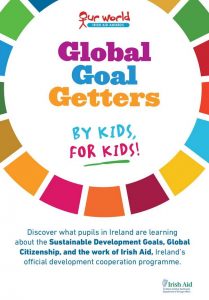 Description
"This child-centred, child-created magazine allows pupils the opportunity to share their learning, insight, creativity and most importantly, their VOICE."
The magazine is in an interactive format:
you can view multi-media pieces within the pages, such as videos, slideshows and download links to worksheets
recipes, crosswords, puzzles, artwork, games, poetry and more created and led by students
includes topics such as 'exploring partnerships', 'a fairer world', 'taking action in our communities', 'our planet is our home' and 'recipes for the global goals'.
This magazine is based on more than 250 submissions from schools across Ireland.
As part of the One World Irish Aid Awards national initiative, young people in Ireland are invited to submit their own creative projects for consideration for issues 2 and 3 of the magazine.