Resource Title
Going Beyond the Symbols: Ethical Consumerism and Fair Trade for Community Groups
Summary
This is the third in the Waterford One World Centre's Going Beyond the Symbols series. This installment is designed for community groups to focus on three key issues: fair trade, climate change and waste.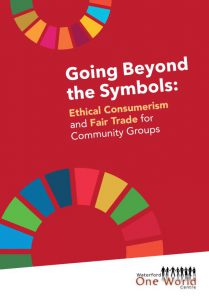 Description
This resource is divided into three action plans, Fair Trade, Climate Change and Waste, that provide background information, activities, video resources and suggestions for actions that are designed for community groups.
These activities were piloted in community settings in the South East of Ireland during 2016
and 2017.
Highlights
action plans with specific tasks per activity: read, watch, learn, talk or act
deep range of case studies, activity types, quiz sheets etc.
full illustrated and designed to be used 'on the go'
specific learning outcomes related to knowledge, skills and attitudes