Resource Title
HAY-2-WAY. Africa- A focus for ESDGC learning (Education for Sustainable Development and Global Citizenship)
Summary
This resource describes the education work that was part of the Two Towns One World project. It makes the case for an Africa focus as a significant theme in Education for Sustainable Development and global citizenship learning.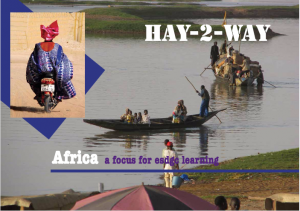 Resource Details
Author:

Scott Sinclair

Publisher:

Hay 2 Timbuktu

Country of Publication:

Wales

Year:

2014

Page Count:

51
Description
The Two Towns One World project had two main strands
Locally in the Hay-on-Wye area with the Gwernfed cluster of schools
Nationally in Wales through a series of workshops and conferences
The scope of the work was enhanced through partnership with other initiatives on the themes 'Unpacking Africa' and 'Debating Development'. A conference in Llandrindod Wells in November 2013 brought the strands of work together and provided the main narrative of this publication.
The resource is full of photos, animations, useful narrative and project examples/guides.
Contents:
Introduction
'Some things we learnt'
Timbuktu and Hay-on-Wye- A sense of the link
The project in local schools
ESDGC Learning
The ESDGC challenge- One's own learning, strengthening global citizenship within ESDGC and promoting higher level skills
A personal ESDGC learning journey
Asking better questions- For example 'Are all people in Africa poor?' as the context for a variety of work
Transition-Primary to Secondary
Links and Learning
Research on Links
Wales and Africa
Unpacking Africa
Professional Implications
Debating development
Why debate
Sustainable Development Goals
The power of Images
Africa: Some potential debates