Resource Title
Helping Hands: A Development Education Resource for Early Childhood Education
Summary
Helping Hands introduces two young children, Nomatter and Forward who live in a small village in Zimbabwe. It explores their daily lives, as well as the challenges they and their family face against a backdrop of food insecurity, climate change and Covid-19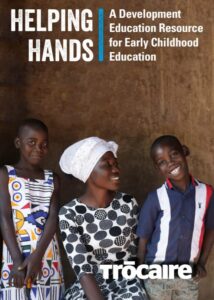 Description
These resources introduce two young children, Nomatter and Forward who live in a small village in Zimbabwe. It explores their daily lives, as well as the challenges they and their family face against a backdrop of food insecurity, climate change and Covid-19.
The Helping Hands resources are linked to the Aistear curriculum framework and the Primary curriculum (Junior & Senior Infants), and to the Northern Ireland preschool framework and Foundation Stage curriculum.
The activities in this resource are structured under each of the four Aistear themes (Exploring and
Thinking, Communicating, Identity and Belonging, Well-being), and each activity is linked specifically to one aim and learning goal from within that theme.
This resource is part of the 'A Brighter Future' education resources by Trócaire.