Resource Title
Human Rights Stories: tales of human rights defenders for primary schools
Summary
This primary school resource provides five inspirational tales of human rights defenders – Fela, Maria, Bobo, Ishmael and Farai. Based on true stories, the tales chronicle the social challenges, lifestories and how each of them defended human rights in their own countries.
Each story is written in a version for older and younger learners in an accessible manner and can be used from infants up until 6th class.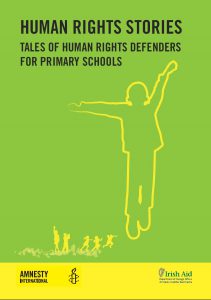 Description
Engaging with the stories of five real activists through discussion, creative thinking and character exploration can support the development of literacy.
Through the familiar medium of storytelling, human rights situations can be explored on a level which children can encounter the real life impact of human rights in practice.
This cross-curricular resource includes a range of participative methodologies, curriculum links (and strands), lesson activities class questions, worksheets and teacher's notes. The stories can also be used to improve literacy skills in the classroom, combining a focus on human rights stories with development of oral, reading and writing skills, which are indicated throughout
The resource aims to:
demonstrate the positive role that individuals and groups of people play in defending human rights in their own country
show the importance of solidarity and active citizenship at local and global levels
inspire children and give them a sense of optimism and empowerment
encourage teachers to incorporate human rights education into their classroom practice
Issues explored in the stories include: Housing; Poverty; Literacy; Freedom of Expression; Child Soldiers; Blood Diamonds.
Countries included: Nigeria; Zimbabwe; Sierra Leone; Myanmar; Angola.
The stories can be used:
as a starting point for exploring human rights issues in the classroom, for pupils and teachers with little or no experience of human rights education
to strengthen human rights education lessons or programmes already underway in a class or school environment
Curriculum links: English; Drama; SPHE; History; Geography; Visual Arts; Music
Video: Human Rights Education video with interveiws from teachers and students in Dublin (2013)