Resource Title
It's about us: supporting young people to speak out about the post-Millennium Development Goals agenda (CSPE workshops)
Summary
Interactive workshops resource for getting young people involved in decisions and voting on updating existing plans to eradicate poverty, Millennium Development Goals agenda, through these 10 workshops that utilise ICT with a range of ready-made videos, workshop templates and supporting profile cards.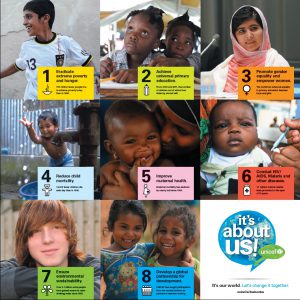 Resource Details
Author:

Vivienne Parry and UNICEF Ireland

Year:

2013

Page Count:

40
Description
These resources will inform, inspire and enable young people to participate in discussions about the world they want to see. UNICEF Ireland wants your class to join today with students from around the country in creating their vision for the future. As the Millennium Development Goals move into their final stages, the workshops will inform students about the progress made to date on eradicating poverty worldwide. Students will learn about the work that remains to be done and how they can play a role in creating change for the future. The workshops are available online at
www.unicef.ie/itsaboutus
and contain a variety of online multimedia to support teachers who want to maximise their ICT facilities and digital literacy in the classroom, including 30 video profiles of young people from around the world (see screenshot below):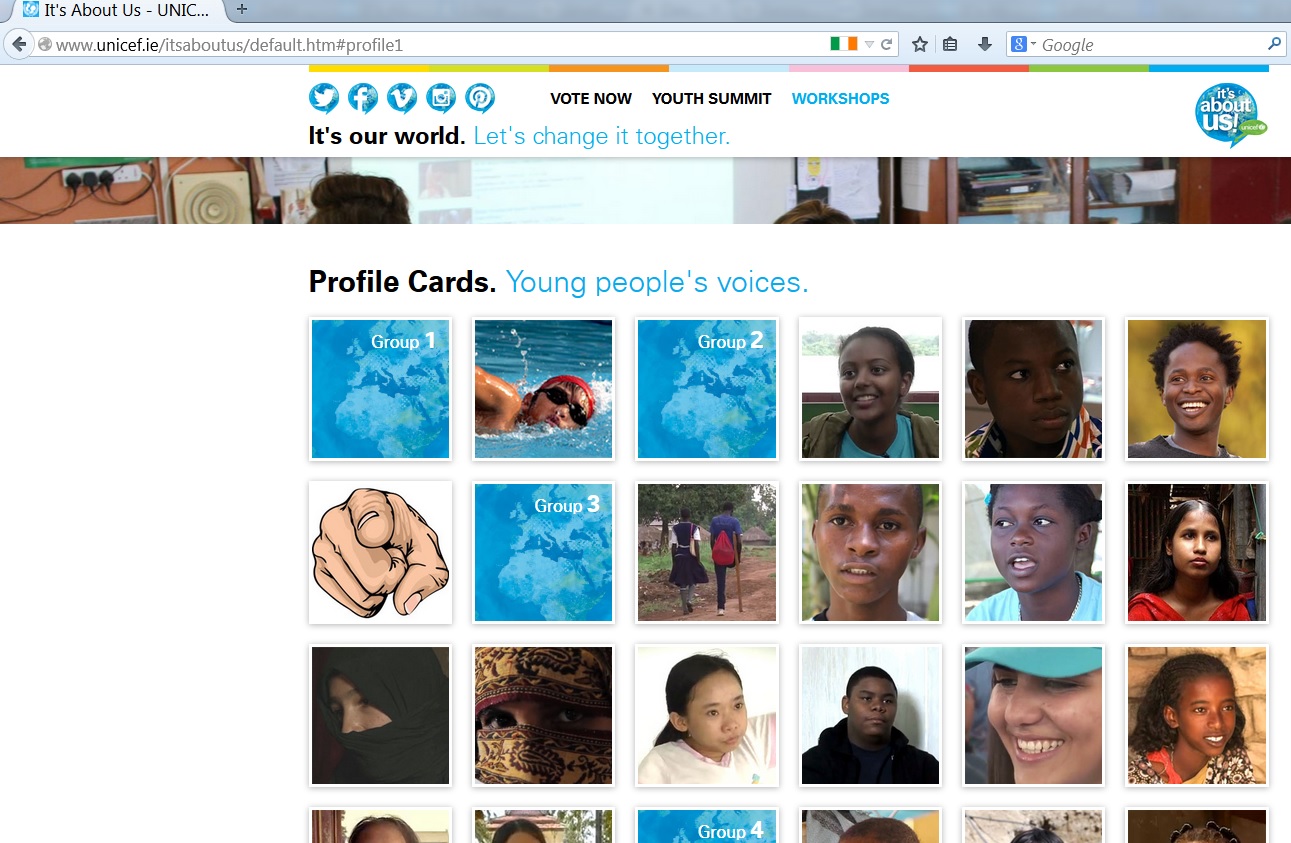 Group time is limited, so you can select workshops that suit the interests of your students.
Each workshop can be delivered in 35-40 minutes
and stimulates active citizenship and our simple template will guide you through suggested discussions, group work, homework and action projects. We want to connect classrooms and give students the opportunity to get more involved through online polling and debates. These classroom discussions couldn't be happening at a better time – national, regional and global consultations are currently taking place on what will replace the Millennium Development Goals in the Post-2015 agenda. Easy-to-use templates will guide you through each of the workshops. Start with 'Our World' and build your own class programme using a combination of the following workshops: 1. Our World: Introduce the concept of Sustainable Development and our shared values. 2. Our Environment: Gain insights into environmental issues facing the global community. 3. Our Wealth: Gain insights into global inequality. 4. Our Choices: Gain insights into ethical consumerism. 5. Our Peace: Discuss conflict, its root causes, the impact on children and conflict prevention. 6. Our Priorities: Discuss and decide on Sustainable Development Goals. 7. Our Education: Learn about the role of education in effecting change. 8. Our Responsibility: Learn about the role of the individual in effecting change. 9. Our Actions: Decide on actions we can take on a personal level to effect change. 10. Our Future: Review learnings and commit to change for future generations.
It's About Us
is a live and constantly evolving project. Continuous updates on the process will ensure that your classroom and group discussions are informed, up-to-date and relevant. Children have a right to actively shape their future in the present and these UNICEF Ireland resources support students to speak out and be innovative and creative in building a world that is fit for all children.
Available from:
Visit the interactive website with support videos, support cards and individual PDFs of each workshop template www.unicef.ie/itsaboutus
Once a series of workshops have been completed young people can vote on the 5 issues that matter to them the most at www.unicef.ie/itsaboutus/vote.html in the lead up to the UNICEF Youth Summit 2014 on 19th September