Resource Title
Ken Robinson: Do schools kill creativity?
Summary
Ken Robinson makes an entertaining and profoundly moving case for creating an education system that nurtures (rather than undermines) creativity.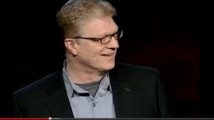 Description
Published Jan 6, 2007
Ken Robinson is an author, speaker, and international advisor on education. His video talks are the most watched videos on TED.
For more visit https://www.ted.com