Resource Title
Looking at the Economy through Women's Eyes A Facilitator's Guide to Economic Literacy
Summary
"A powerful tool in that it will enable any learner to enter into the discourse of neo-liberalisation with confidence. Given training and/or experience of adult education on the part of the trainers, this manual can be widely used within many different contexts. It can be unreservedly recommended." — Dr. Eilís Ward, Lecturer in Women's Studies at NUI Galway, in a review in the Aontas Adult Learner Journal, 2005.
Economic Literacy aims to contribute to women's empowerment through a process of demystifying the economy, and making connections between the local and global dimensions of economic policy. A real barrier to women's engagement with economic policy is the elitism of economics, which makes it seem inaccessible and overwhelming. Based on Banúlacht's experience of developing and delivering Economic Literacy Training, this facilitator's guide is a compilation of resources and activities which have been tried and developed through interaction with women. It begins with an introduction to Economic Literacy, which lays the foundation for Banúlacht's approach.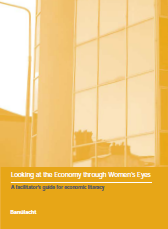 Description
Each of the sections in the resource covers one major 'concept area', and opens with a conceptual overview designed to give facilitators a broad understanding of key concepts and terminology. At the end of each module is a series of activities which can be used to facilitate groups in developing their analysis of the issues raised in the concept section.
The concept section is followed by a reference section, with references for the main sources used in the module, web addresses for organisations working on the issues and suggestions for further readings.
Suggested use: for community education and development education with women's organisations and women's networks.
Big Ideas in this Resource
Introduction to Economic Literacy
Module 1. Gender, care and the economy
Module 2. Economic Growth: a measure of well-being?
Module 3. Globalisation and trade
Module 4. Gender budgeting
Module 5. A human rights approach