Resource Title
One in Eight – A senior primary resource about hunger, food, and our role in the world
Summary
One in Eight has been written to encourage discussion and debate on the broader values base of the issue of food and hunger; it is written and designed to encourage educational enquiry and discussion and is part of a broader debate on the increasingly unjust shape and structure of our world.
Section one reviews the importance of nutrition to each and every one of us; the 'food pyramid', its significance and the question of food waste.
Section two explores the nature, shape and impact of hunger worldwide – the who, where and why of hunger.
Section three begins a discussion on different types of responses to the issue and how we can contribute to its resolution.
A lesson-plan friendly approach has been adopted throughout with curriculum integration links, aims, materials, learning guides, learning objectives and keywords used in each lesson
Subjects covered by this resource include SPHE, Geography, Science, English and Mathematics. Green Schools support is also given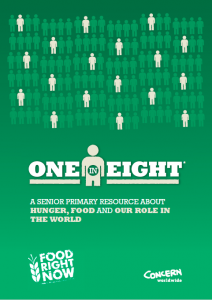 Resource Details
Author:

Tony Daly and Ciara Regan

Publisher:

Concern Worldwide

Country of Publication:

Ireland

Year:

2013

ISBN:

978-0-9560981-0-8

Page Count:

52
Description
This resource includes 11 lesson plans to explore the variety of the topic of Food justice. The lessons are as follows:
Lesson 1: Wants and needs
Lesson 2: Nutrition and the food pyramid
Teacher Sheet: Food Glorious Food!
Lesson 3: Food labels – stop the traffic!
Lesson 4: The Waste Audit
Teacher Sheet: From Farm to Fork
Section 2: Food, hunger and the world
Teacher Sheet: What is world hunger and why does it exist?
Lesson 5: Myth Busters
Lesson 6: The Biscuit Game
Lesson 7: The Maize Factor
Food Fact Sheet
Section 3: Food Rights – Now!
Lesson 8: The MUAC arm band and Plumpy'nut bars: responding to a food crisis
Lesson 9: Food rights and ending world hunger
Lesson 10: The Waste Audit
Lesson 11: Action on World Hunger – the class petition. Become a Hunger Hero!
This resource also includes a lesson plan guide, a list of reasons why it is important to learn about hunger, and a curriculum links table. This resource is well designed, and each lesson is laid out clearly and an in accessible manner.