Resource Title
Spotlight on South Sudan: A Development Education Resource for Primary Schools
Summary
This resource for primary schools uses Drama to explore life in South Sudan. Drama has the unique capacity of enabling participants to embody unfamiliar contexts and aspects of human experience encountered through Development Education. Through dramatic embodiment, the complexities inherent in development themes and nuanced understandings of these can be captured.
The resource includes two schemes of work: one aimed at 3rd and 4th class on the topic of water, and the other aimed at 5th and 6th class on the topic of conflict.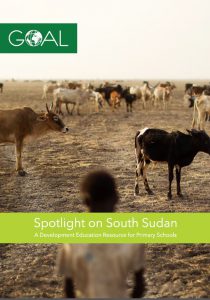 Description
Spotlight on South Sudan is an educational resource which uses the methodology of process drama to enable children to learn, through imagined experience, about life in South Sudan. South Sudan, the world's youngest independent nation, faces tremendous challenges such as the ongoing conflict, extreme levels of poverty, internal displacement and so on.
The resource is broken into two separate schemes aimed at different class levels. It includes detailed notes for teachers as well as photocopiable resources for students and additional lesson plans to further extend the learning.
Water snake, the scheme of lessons for 3rd and 4th class, is set in a village in rural South Sudan. It explores the lives of villagers before the availability of clean water in their area and charts their journey to a better quality of life. However, the arrival of internally displaced persons (IDPs) into the area brings challenges for the villagers.
Conflict lines, the scheme aimed at 5th and 6th class, is set in various locations in South Sudan and neighbouring Ethiopia. It explores how a family's situation changes when conflict begins to tear South Sudan apart.