Resource Title
Teaching Controversial Issues
Summary
This training pack is a professional development programme for teachers which is designed to support and promote the effective teaching of controversial issues in schools across Europe. Learning how to engage in dialogue with people who's values are different from ones own and to respect them is central to the democratic process and essential for the protection and strengthening of democracy and fostering a culture of human rights.
The idea for this pack came out of a call from policy makers and practitioners in a number of European countries for more effective training for teachers in the teaching of controversial issues.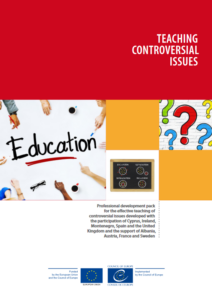 Resource Details
Intended Audiences:

Adult and Community Settings, Development Education Workers, Facilitators, General, Higher Education, Post Primary, Trainers, Whole School, Youth Groups

Format:

Downloadable e-resource

Topics:

Active Citizenship, Activism, Controversial issues, Democracy
Description
Living with Controversy; Teaching Controversial Issues Through Education for Democratic Citizenship and Human Rights training pack for teachers is designed primarily for the benefit of classroom teachers. However, as controversial issues can arise at every phase of education, the pack will be relevant to to educators across all educational settings and subjects. The pack promotes an open and collaborative approach to teaching and learning with a special emphasis on self-reflection and thoughtful, informed action.
The training pack has two main parts:
The scoping paper: provides the rationale
The programme of training activities: the continuous course of training about two days in length
The content, approach, flexibility of the pack make it well-suited to contribute to a number of current educational priorities and imperatives.