Resource Title
The Common Cause Handbook
Summary
This resource is 'A Guide to Values and Frames for Campaigners, Community Organisers, Civil Servants, Fundraisers, Educators, Social Entrepreneurs, Activists, Funders, Politicians, and everyone in between'.
This handbook argues that social values are a more sustainable way to create positive change, rather than using fear or greed.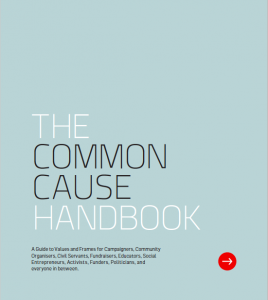 Description
This handbook is a well designed and readable resource. The topic is covered in depth with excellent graphics through out. The following are topics covered:
Introduction
Why values matter
How values work
Use values
How values change
How values have shifted in the past
Frames
Implications
Guiding principals
Working for change
Spaces and degrees of change
FAQs
What's next?
There is also a set of exercises for facilitating a workshop on these topics at the back of the handbook.