Resource Title
The Exploitation Game: protecting families, protecting the planet – a development education resource for youth groups
Summary
A development education resource for youth group. Exploring the topic of oil exploration in Kenya.
The game has a wide range of potential learning outcomes related to power, business and human rights, inequality and land rights.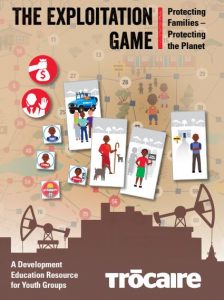 Description
This Exploitation Game aims to support young people to explore the themes of land, resource and environmental rights.
This innovative and exciting resource will enable youth workers and young people to use this game as a tool to increase understanding and empathy. It is informed by youth work principles and practice and the application of games as experiential learning.
Key aims of Exploitation Game:
Develop an understanding of the challenges communities and activists face when trying to protect their land

Increase empathy with people globally whose human rights are exploited by big business

Build understanding of complex global justice issues

This game resource includes:

The board game includes:

4 Role Cards

Oil Company Discs

Oil Company Tracking Sheet

4 Special Power Cards

4 Counters

5 Tracking Discs